I've been quilting a lot lately.
By quilting I mean putting together quilt tops. I've only actually finished one quilt, and I paid out my nose to have it professionally done.
There had to be a better way. I love how it turned out, but HOLY COW, it cost me a lot.
So I did some Google research and learned more about free motion quilting, which I'm convinced is the better way I've been looking for.
Sure, it's difficult and takes lots of practice. But it's practically free.
So I gave it a try last night, a very preliminary and experimental try, not expecting great results.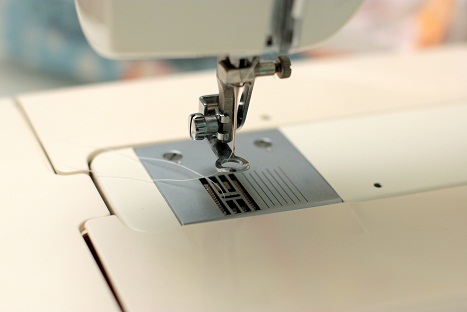 Figuring out my machine and how to get started – which foot to use and how the heck to put it on – took the longest.
You use a darning or embroidery foot and you have to take off the little thing that regular presser feet attach to. Once I figured out it didn't attach like a regular presser foot…smooth sailing.
Then you lower the feed dogs. And lucky for me, some fellow Riccar 9600 owner scanned and posted her entire user manual online for me to learn how to do that. Whew.

Set stitch length to 0.
Make a little quilt sandwich with fabric on top and bottom and batting in between, safety pin together, and go to it.
The darning foot doesn't rest on the fabric so you can move it around freely. The stitch length is controlled by the speed of your presser foot and the hard part is moving the fabric around smoothly and uniformly to make nice stippling.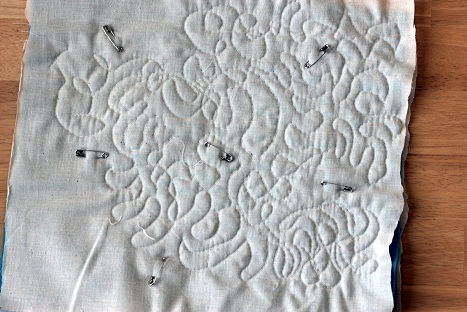 For a first try it's…not horrible. It was difficult and it will take lots of practice, but then I can quilt less expensively!
I'll create a more thorough video tutorial soon cause the possibilities of free motion quilting are kind of awesome. And I'm ready to master a new skill. Or at least try…
Any tips for me???