This is my last official post as a Frigidaire Test Drive Mom, and this has been such a fabulous experience. I could not have hoped and prayed for 15 years for a washer and dryer as efficient, quiet, solid, and swanky looking as this and I honestly enjoy doing laundry more now than ever before. (I've never hated doing laundry, but I did hate the earthquake noises…)
The last favorite thing I'll share about the Affinity series as part of my official review is how even when spinning at 1100 revolutions per minute, I can still set a half-full glass of water on top of the washing machine and nothing will spill out. That means only the inside moves, not the entire washing machine – rare, but true. These things don't scoot all around the floor and I don't have things slipping off the top all the time.
It's just nice to put a load of laundry in, push a button and not hear another thing. I can forget about it and come back 45 minutes later to a fresh smelling load of superbly washed laundry.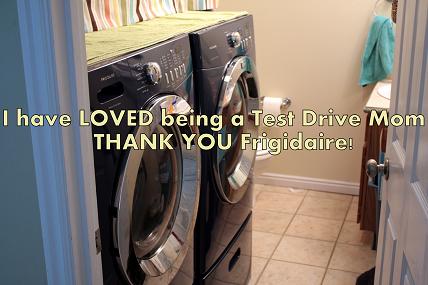 Of all the time and energy saving appliances that I have to help manage my home and household, this washer and dryer is the most valuable to me and I LOVE LOVE LOVE it. And Frigidiare. I love them too.
THANK YOU Frigidiare for picking me for your team – let's play again soon…
I wrote this while participating in a Test Drive Campaign by Mom Central on behalf of Frigidaire and received a Frigidaire Washer and Dryer to facilitate my review.