We read lots and lots at our house, and we've come across some great children's picture books in the process. Here are some of our current favorites, great for toddlers.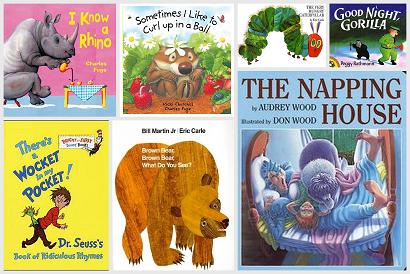 The Giant Jam Sandwich by John Vernon Lord
Goodnight Moon by Margaret Wise Brown
Goodnight Gorilla by Peggy Rathmann
If You Give a Moose a Muffin by Laura Numeroff
If You Give a Mouse a Cookie by Laura Numeroff
Brown Bear, Brown Bear, What Do You See? by Bill Martin
Chicka Chicka Boom Boom by Mill Martin
The Very Hungry Caterpillar by Eric Carle
There's a Wocket in My Pocket by Dr. Seuss
Are You My Mother by P.D. Eastman
The Napping House by Audrey Wood
Stand Tall Molly Lou Melon by Patty Lovell
There's a Nightmare in My Closet by Mercer Mayer
Alligators All Around by Mercer Mayer
Peekaboo Morning by Rachel Isadora
A Dragon in a Wagon by Jane Belk Moncure
Go Away Big Green Monster by Ed Emberley
Sometimes I Like to Curl Up in a Ball by Vicki Churchill
I Know a Rhino by Charles Fuge
What are some of your toddler's favorites?