We get into the fridge a lot. If you do too, you might enjoy some patriotic/ festive magnets this 4th of July!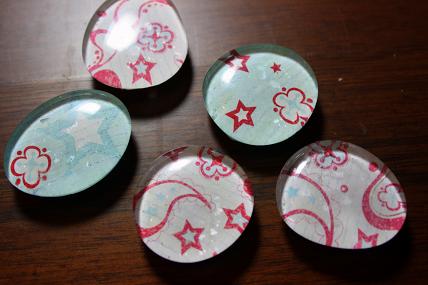 SUPPLIES
clear glass rocks (round on top, flat on bottom)
3/4″ disc magnets
pretty paper
glue gun
craft glue
1. Put a large dollop of craft glue on the flat side of the glass rock. Place the rock glue side down on some pretty paper and rub in a circle to spread the glue out so there's only a thin layer between the rock and the paper. You don't want the glue to be too thick.
2. Let dry for several hours.
3. Cut the excess paper off so you can't see any paper sticking out from the front side.
4. Using a hot glue gun, glue the magnet to the back of the rock.
5. Let dry several hours before using.
My 2 year old helped me with this little project, so you can definitely include your children. I put the glue on and let him stick it to the page – he loved it!
I love seeing my pretty magnets every time I open the fridge! Happy 4th!