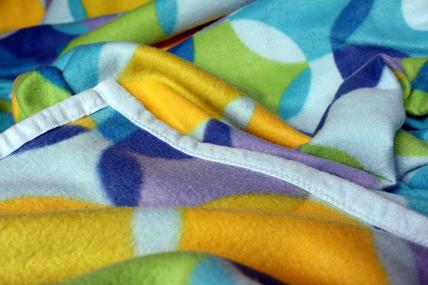 I love to have plenty of extra blankets, and fleece is so inexpensive (on Black Friday especially) that making your own is really the way to go.
To give your handmade fleece blankets a more finished, store-bought, colorful look, finish the raw edges with bias tape. You can make the border as wide or narrow as you want by varying the width of the bias tape. It's especially fun to make your own!
Just pin the unfolded bias tape (right sides together) to your fabric and stitch along the crease. Then fold the rest of the bias tape over the edge, align with the stitching line you just made, and stitch in the ditch from the front side. It's easy, fun, inexpensive, and cozy!
{photo taken with a Canon Rebel XSi}