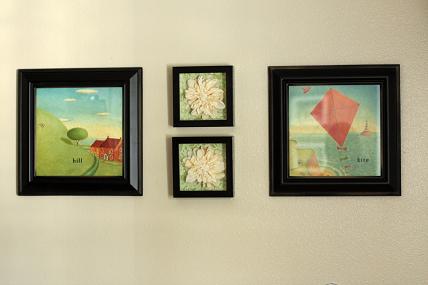 A year or two ago I found a children's book illustrated by my favorite illustrator, Allison Jay, and framed some of the pictures for Elliot's room. But it didn't really go with the rest of the theme for his room, so they've sat in a closet since then. And one day I thought to put them in our bathroom/laundry room. Duh! It's perfect wall decor for the bathroom!
I have a third frame on another wall with another illustration, and the two frames in the middle each have a silk flower with some patterned paper behind. The two middle frames are from IKEA (I had white and needed black so I spray painted – blessed holy spray paint!) and the others are 10″ x 10″ from Target.
Now this previously drab room has some beauty and I like that room so much more now!
What are your bathroom wall decor solutions?