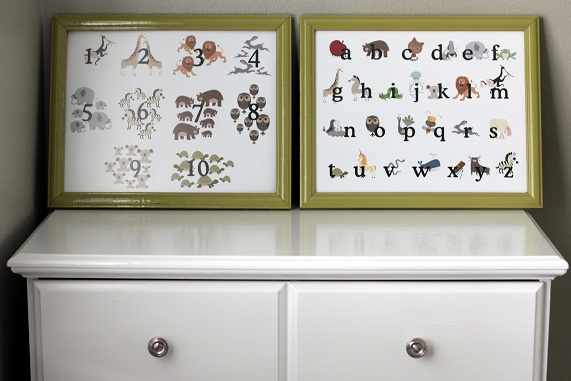 I found my new favorite blog ever, at least for free printables. Heard of Sprik Space?
That's where I found those two ADORABLE alphabet/number posters that I printed at Costco for $2.99 each to hang in Sharky's room.That green on the $1 yard sale frames is the same green from the Hoopla Dot/Stripe/Groovy Guitar quilting fabric from Michael Miller that I'm using to decorate the room.
I have another project using frames and that green spray paint that I'll share later. When I'm finished. Hopefully before the baby is actually born.
But aren't those posters adorable?!?
And that dresser we painted white and used oil based paint. The paint expert lady at the store said oil based paint was harder and shinier and I LOVE how it turned out. It's kind of a pain to work with, but it looks gooood.
Back to Sprik Space.
She has a looong page of freebies, and they're all just as cute as this one, so CHECK IT OUT. I've printed off some of her pattern pieces series, which I LOVE and want to hang up every where.
And if you like my picture, PIN IT! I'll love you forever…
I'm so excited to have the nursery all finished up to show you!