Get the pattern.
Get the tutorial.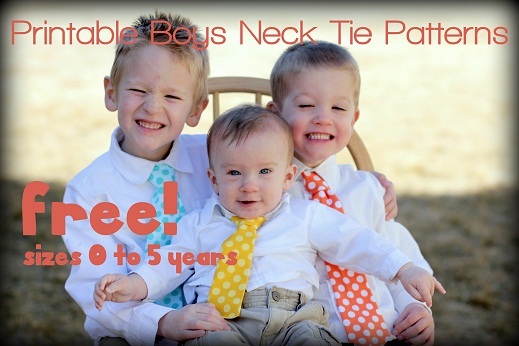 I've posted a few times about making toddler neck ties and I FINALLY got all my stuff together to create my very own printable pattern. For you! For FREE!!!
This is my first ever original sewing pattern and I'm so excited about it!
[Get Instant Access To Over 15,000 Fun And Unique Embroidery Designs!]
Click to download Boys Neck Tie Patterns:
Sizes 3, 4, and 5 should fit boys of those ages.
I've included some guidelines on the pattern to make sure you get it put together properly:
 TURN OFF any sizing to fit, etc. You want to fill up the whole page.
I put a 1 1/4″ square on the pattern so measure it after you print to make sure the scale is correct.
All the cutting instructions are on each pattern – cut on the fold, one from main tie fabric and one from a lining fabric,  etc.
There are bold straight lines that go across the bottom of each pattern page – those lines need to match up so you can either fold one down or cut it off and then tape it on top of the other one. This will probably make more sense after you've printed the pattern.
Print it, make it, and I hope you LOVE IT!!