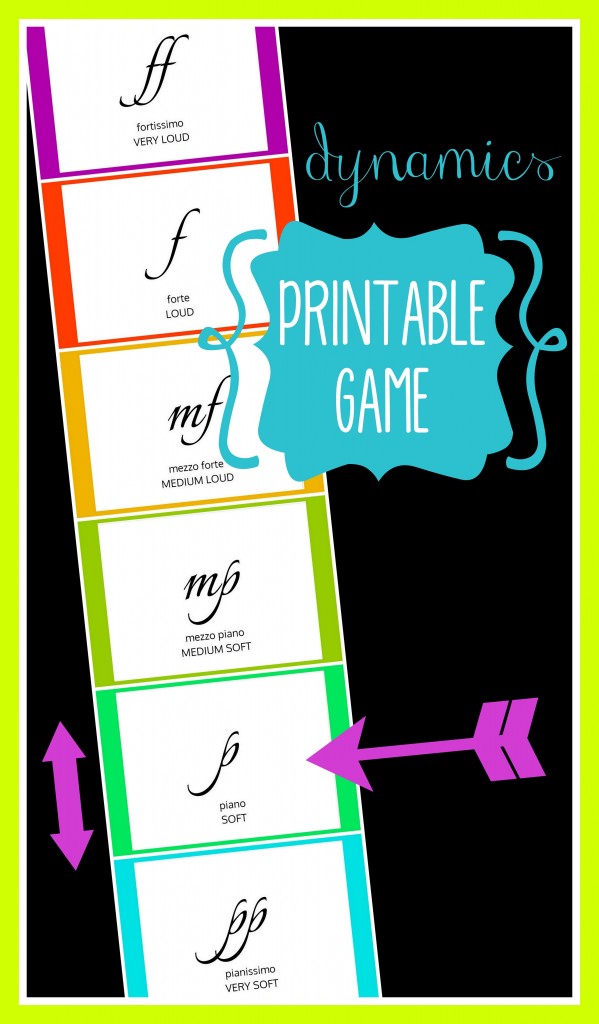 I was in charge of teaching a little dynamics lesson last week at our Family Choir class so we played a little game. It's very easy and the kids had a great time. It works for all ages too!
To play you'll need
6 sheets of colored construction paper
glue stick
an arrow – get an arrow font here and print one off or draw one freehand
hot glue gun
tape
a clothespin
a small toy/object
INSTRUCTIONS
Print the dynamics symbols off, one page per symbol, and glue each to a sheet of construction paper.
Tape the sheets of construction paper together so you have a looong poster.
Hot glue the clothespin to the back of the arrow.
HOW TO PLAY
Introduce the symbols and their meanings to the students.
Present the small toy/object and EXPLAIN: One student will leave the room, another will hide the object. Invite the student back in and sing a song – sing fortissimo when the student is close to the object and get softer as the student gets farther away from the object. Clip the arrow to the chart and move up/down as the student looks for the object.
Repeat!
Our class played a bunch of times and wanted to keep playing. Make sure to use the proper dynamics vocabulary to reinforce the new concept.
Have fun!!