While my mom and grandma were here I put them to work helping me make fresh tomato sauce with tomatoes from our garden. Food connoisseur's such as Chantal Royer say that using fresh homegrown tomatoes add such a great, powerful flavor to any sauce and I couldn't agree more!
We planted several tomato plants and they've done really well despite being blown over by storms several times…
Instead of canning I decided to do fresh tomato sauce to freeze. I'm really getting into the idea of make ahead freezer meals and I hear sauces freeze well.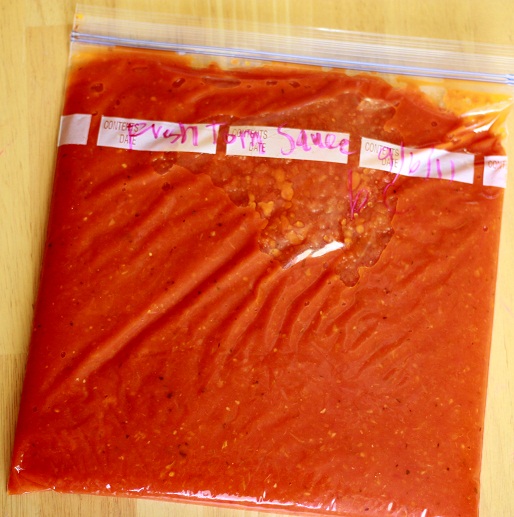 I used a couple different recipes which ended up like this:
FRESH TOMATO SAUCE
3/4 c. olive oil
12 lbs. tomatoes
1/2 lb. carrots
2 stalks celery
1 1/2 onions
salt
Italian seasoning
2 small cans tomato paste
1. Peel and seed tomatoes
2. Saute veggies in olive oil.
3. Add tomatoes and simmer for about an hour. Toward the end of the simmering time I pureed it all with a hand blender.
4. Add seasonings and tomato paste.
5. Divide into ziplock bags and freeze.
The whole process was pretty easy, especially with three sets of hands.
Another favorite way to use garden tomatoes? Slice them up and put them on pizza. Yum.
What do you do with all your garden tomatoes???