WINNER!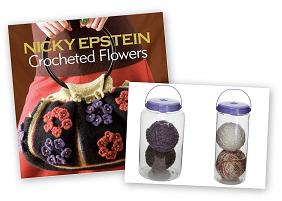 The winner is Christina! She said, "You have such great giveaways! I'd really like to win the Crocheted Flowers book and second choice would probably be Knitting a Kiss in Every Stitch."
Send an email to kelsey[at]vanillajoy[dot]com to claim your prize.
THE PRIZE
One reader will win a copy of Nicky Epstein's Crocheted Flowers published by Sixth and Spring Books and one large and one medium Yarn-Tainer from Snapware!
MY REVIEW
As the mother of two boys I have gained a new appreciation for everything girly. Lately, I feel the tragedy it is not to put beautiful crocheted flowers on every one of their handmade hats as I have a book full of flower patterns. I love my boys, but oh how I want a girl!
Nicky Epstein is a knitting and crochet wizard and the author of about a dozen books including the one up for grabs today, Crocheted Flowers. The book is divided into 5 chapters, each featuring a different kind of flower:
layered petal flowers
one-piece flowers
twisted-technique flowers
felted flowers
chain stitch and ball flowers and leaves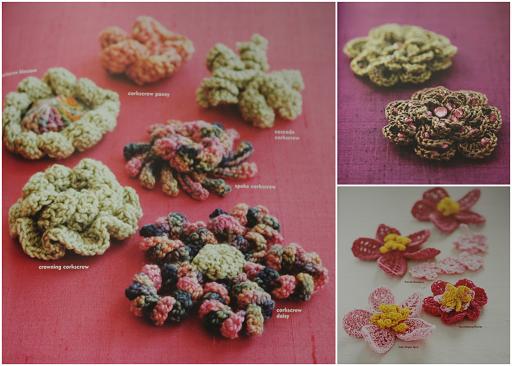 These were some of my favorites in the book and there are 45 different patterns in total. She uses all kinds of yarns to get different textures and looks, adds embellishments like beads, and does an amazing job at recreating real flowers accurately with yarn.
One of my very favorite patterns is this one, the snowball flower. All the patterns are given in words and diagram form so you can use whichever method you prefer. I whipped it up while watching Pride and Prejudice (not the 6 hour version) and attached it to my favorite headband pattern from Etsy seller Adrienne Engar. As you can see one of my models was more willing than the other…ha! Elliot is a good sport.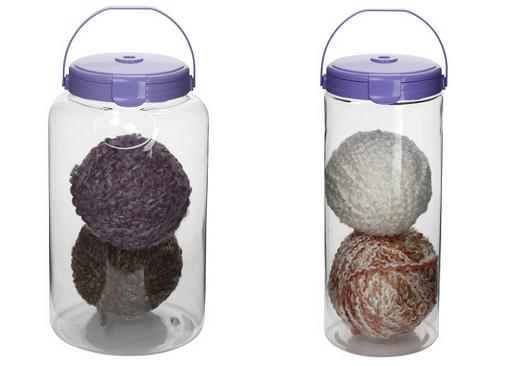 And if you knit or crochet much at all, a Yarn-Tainer is a great product, especially if you have kids, pets, or like to work on the go. I find I typically have several projects started at once, and I love to keep the one I'm working on in a Yarn-Tainer so nothing comes loose or gets tangled up, and also so my kids can't get at it! I find myself grabbing my Yarn-Tainer as I run out the door – you never know when you'll have a minute to work!
Snapware Yarn-Tainers are food safe (just in case!) and are made in the United States of sturdy materials. The lid has a hole in the top for your strand of working yarn and the whole lid is on a flip-top hinge to insert your other supplies without having to unscrew the entire thing.
A Yarn-Tainer is the best way to keep your project clean, safe, accessible, and organized!
Thanks to Nicky Epstein for all the beautiful flowers and Sixth and Spring Books and Snapware for sponsoring this giveaway!
GIVEAWAY RULES

Visit SixthandSpring.com and Snapware
Make a comment on this post telling me your favorite Nicky Epstein book and/or Snapware product before midnight Sunday, September 12.
A winner will be selected and announced in a new post on Monday.
Only one comment per person unless you earn extra entries.
Giveaway open only to residents of the continental United States…sorry.
Winners must email me to claim their prize within 5 days.
EARN EXTRA ENTRIES
You may earn 1 extra entry each for doing the following (make a separate comment for each thing you do):
Sign up for Snapware discounts
Facebook about the contest with a link back here
Add the "Back to Craft School" banner to your blog
Subscribe to my feed
Sign up for my newsletter
Add my button to your sidebar
Comment on any non-contest post (must contribute to the conversation)
GOOD LUCK and THANKS!
{This product was provided to Vanilla Joy for review purposes.}