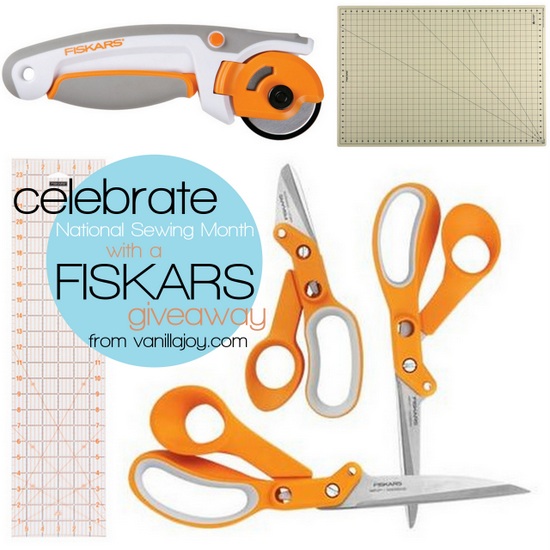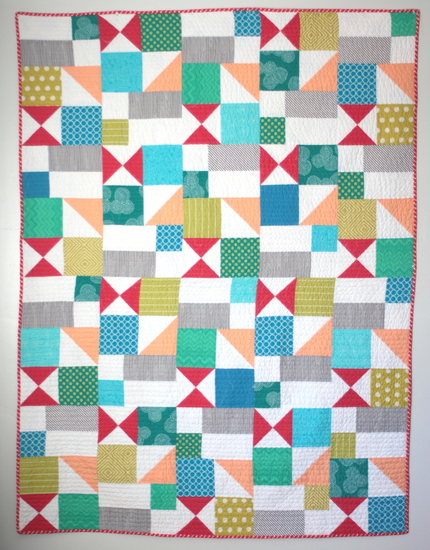 The winner is #81 – Megan! Send and email to kelseyatvanillajoydotcom to claim your prize!
THE PRIZE
In celebration of National Sewing Month, one lucky reader will win a bundle of FISKARS tools worth $195 including

FISKARS 6″, 8″, and 10″ Amplify RazorEdge Fabric Shears 
FISKARS Easy Change Ergo Control Rotary Cutter 45mm
FISKARS 24″ x 36″ Eco Cutting Mat
FISKARS 6″ X 24″ Acrylic Ruler
AND a free copy of my new Back & Forth quilt pattern.
MY REVIEW
I got to try out these great scissors and, seriously, they cut fabric like buttah.
Each pair comes with it's own protective sheath to keep the blade protected and curious fingers safe. The handle is really very comfortable, even when cutting thick upholstery fabric or slippery knit fabric. It fits my hand perfectly and are soft and cushy and comfortable to use. The blades are stainless-steel and cut cleanly all along the blade, and cutting fabric with them isn't the frustrating, slow-going process it has been with other scissors…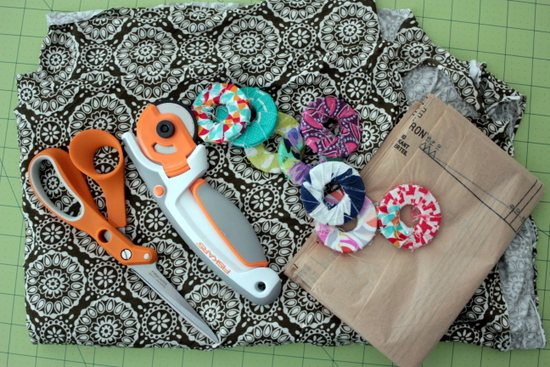 I've been celebrating National Sewing Month and playing with my new toys by making myself some new maxi skirts for my growing pregnant body. They're going to be perfect for a long, pregnant winter.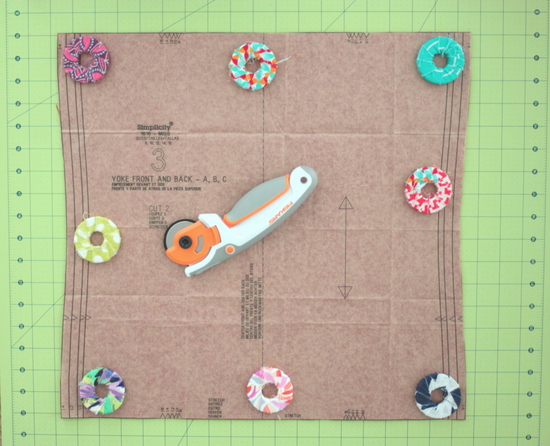 I typically use a combination of fabric shears and pins, pattern weights and a rotary cutter when cutting out fabric for an apparel project. I use the rotary cutter for the long straight sections – it's super fast and very accurate.
The Easy Change Ergo Control Cutter is my new favorite blade of choice. The blade is lowered out of safety lock when you grip the gray handle, so it feels much safer to have around my kids. There's also a thumb activated lock that keeps the safety guard up even when the handle is released. And it works great to cut through several layers of fabric, felt, or even vinyl.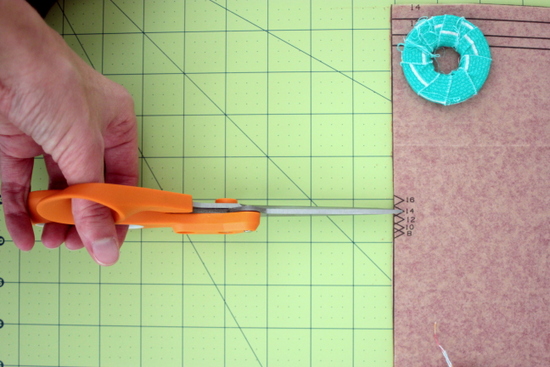 When I've cut out the long straight portions with the rotary blade, I use Amplify fabric shears for the smaller details (notching and marking, corners, tight curves, etc.). It's the best system, it works great and is so fast and accurate.
I use my 6″ x 24″ acrylic ruler and large 24″ x 36″ cutting mat for everything. Sewing, crafting, measuring, everything. I love how big the mat is and that it's double sided. And honestly, I don't think I own any other fabric cutting and crafting tool brand – FISKARS has just been too good to me over the years!
And somebody is going to win one of each of my favorite tools! Happy National Sewing Month!
GIVEAWAY RULES
Make a comment on this post telling me your favorite Fiskars fabric crafting product by midnight Sunday, October 6.
A winner will be selected and announced the following day.
EARN EXTRA ENTRIES
GOOD LUCK and THANKS!
{This product was provided to VanillaJoy.com for review purposes. Thanks to FISKARS for sponsoring today's giveaway!}