WINNER!
The winner is Michelle! She said, "Oooh, I've been coveting the square needles for a long time, and the sock book looks fabulous! I have Toe-Up Books, and 2 at a time books, but none that marry the two. Would love it!"
Send an email to kelsey[at]vanillajoy[dot]com to claim your prize.
THE PRIZE
One reader will win a copy of Toe-Up 2 at a Time Socks by Melissa Morgan Oakes AND a 2 pair of 40″ square circular knitting needles (sizes 4 and 5) from Kollage Yarns.
MY REVIEW
I started knitting in January in fulfillment of one of my goals for the year and not only was I amazed at how hard it WASN'T but I found myself really wanting to learn to knit everything, including socks!
Toe-Up 2-at-a-Time Socks was my very first introduction to sock knitting and I did it! I knitted a pair of socks with no human or You Tube help, that's how great Melissa Morgan-Oakes and this book is.

This book starts out talking about the basics of yarn, needles, etc. Melissa (I hope she doesn't mind me calling her by her first name!) lists some of her favorite needles including Kollage Yarns Square Circulars which the winner will receive along with this book.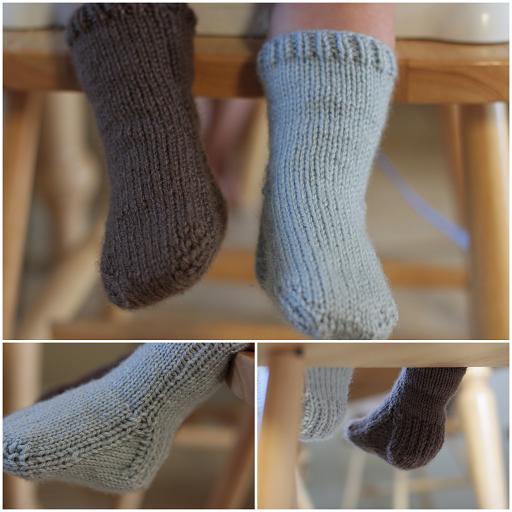 The third section before the patterns is a sample sock pattern just to get you used to the techniques. I made those socks, loved every minute of it, and I can totally see how people get addicted to knitting socks!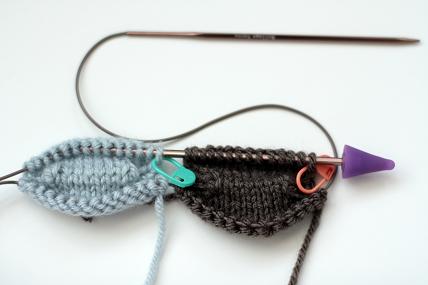 She recommends using two different colors of yarn your first time and I'm so glad I followed her advice because I would have been totally confused if I hadn't. The pattern uses 40″ circular needles and I used Kollage Yarns square circulars, which I am in love with.The cord is super flexible and so nice to work, and the square knitting needles feel more comfortable, especially because the needle size is small. I really like the square shape when using a smaller needle.
I also used Clover locking stitch markers and needle point protectors, which work great with square needles. Clover's knitting accessories are always reliable and fabulous.
Knitting up these socks was a real pleasure and the instructions were so easy to follow that anyone can do it! There are some rough parts in my finished socks, but overall pretty good for a first time!
Then the patterns, 15 of them!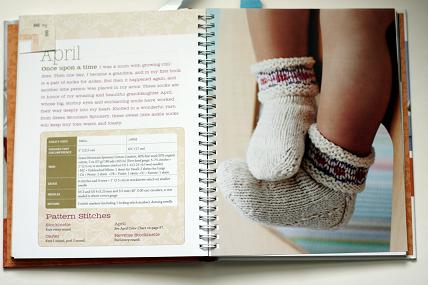 The next pair I'm going to tackle will be April, a child's sock pattern. I think I'm going to like children's socks because they're so much smaller and less intimidating!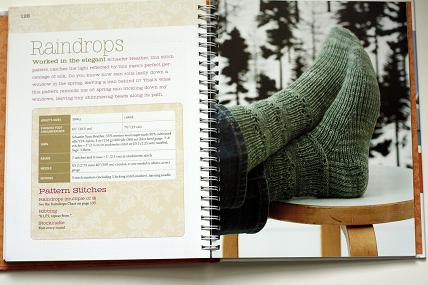 But eventually I can't wait to try these adult socks. They look so cozy!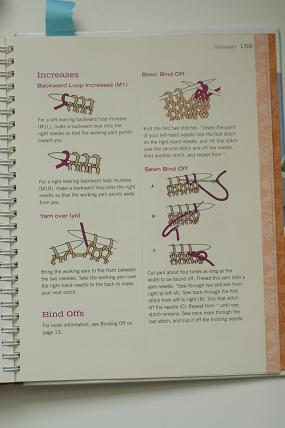 The last section of the book gives you abbreviations and diagrams for all the main techniques you'll need to use in the book. This section was what allowed me to do the whole pair of socks without consulting You Tube. She also gives a chart of standard sock sizes for men, women, and children so you can really get those socks perfect.
Thanks to Melissa Morgan-Oakes for teaching me to knit socks and to Storey Publishing and Kollage Yarns for sponsoring this giveaway!
GIVEAWAY RULES

Visit Storey.com & KollageYarns.com
Make a comment on this post telling me why you'd like to win before midnight Thursday, September 9.
A winner will be selected and announced at the top of this post on Friday.
Only one comment per person unless you earn extra entries.
Giveaway open only to residents of the continental United States…sorry.
Winners must email me to claim their prize within 5 days.
EARN EXTRA ENTRIES
You may earn 1 extra entry each for doing the following (make a separate comment for each thing you do):
Facebook about the contest with a link back here
Add the "Back to Craft School" banner to your blog
Subscribe to my feed
Sign up for my newsletter
Add my button to your sidebar
Comment on any non-contest post (must contribute to the conversation)
GOOD LUCK and THANKS!
{This product was provided to Vanilla Joy for review purposes.}