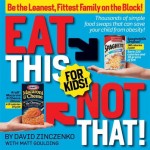 The winner of Eat This Not That! For Kids! is Tiffany! She said, "I am clueless when it comes to what's good to eat (other than the obvious choices). With 3 little ones, this book could be very helpful!!"
Send an email to kelsey[at]vanillajoy[dot]com to claim your prize.
Thanks again to David Zinczenko and Rodale Publishing for sponsoring this giveaway.
THE PRIZE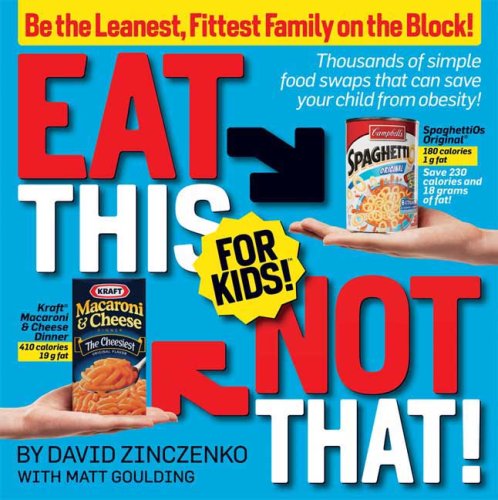 One reader will win a copy of Eat This Not That! For Kids! by David Zinczenko and Matt Goulding.
MY REVIEW
This is the book that really got me thinking about making better food choices for our family. I used to think that we ate pretty healthy, and compared to most Americans we do. I don't buy much that is pre-packaged and processed, but I learned that not eating the bad stuff isn't enough – you have to eat the good stuff!
Here are some fascinating statistics from the book that got my attention:
33% of children born in the year 2000 will develop diabetes
80% of overweight children have at least one cardiovascular disease risk
a large percentage of children with asthma are overweight
American kids eat 150 more calories every day than they did in 1989
Americans consume 82 more grams of added sugars every day partly because of high-fructose corn syrup which is in everything
trans fats – they increase bad cholesterol and lower good
Americans consume 450 calories a day from beverages (that's an extra 23 pounds a year)
ingredients are becoming more chemistry than actual food
These statistics are all contained in the first few pages of the book and the next section talks about the dangers of being overweight which are serious and scary. With all the obesity and heart disease in the United States, WE HAVE to start making better food choices for our children!
Chapter 1 has a color-coded chart with lists of each fruit, their health benefit, and some ideas for how to incorporate them into your diet. I love the following suggestions:
watermelon – blend with yogurt, ice, and OJ
red bell pepper – slice up raw and serve with hummus
sweet potato – toss spears with olive oil and roast at 400 degrees for 30 minutes
carrot – roast slowly in the oven with olive oil and salt
kale – saute in olive oil until wilted then add raisins and crushed pine nuts
spinach – mix into scrambled eggs or pasta
If your family eats out a lot Chapter 2 is for you. The book lists the 20 worst kids' foods in American and then goes through a good chunk of restaurants to give you the best and worst options on the menu.
On our latest road trip, we stopped at Arby's because I read that they use lean roast beef and their basic sandwiches are pretty good options. It's nice to make good food choices even when you're not cooking at home!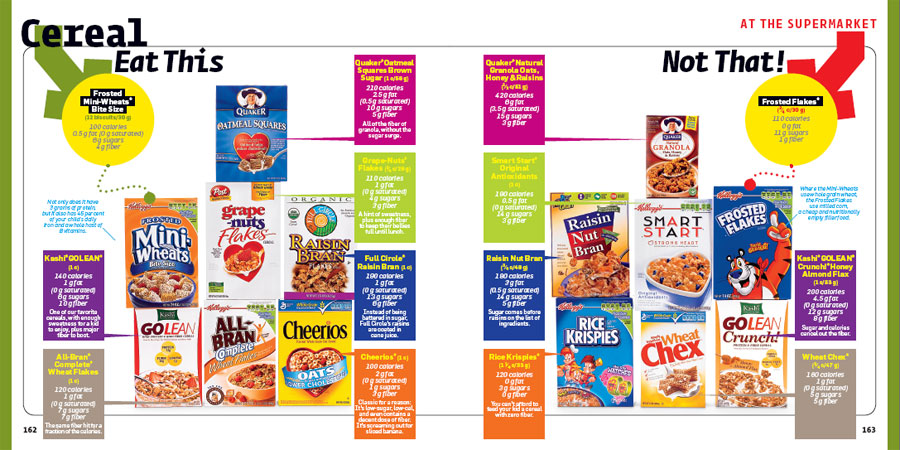 Chapter 4 teaches about how to shop the supermarket, what ingredients to look for and avoid, and pages and pages of "Eat This, Not That!" comparisons that I've found extremely helpful! The information in the book is really easy to understand, process, and apply and the size is perfect for carrying around.
Check your local library and read this book! If we want our children to live long and healthy, we need to change the way we feed them and soon.
Thanks to the author, David Zinczenko, and Rodale Publishing for sponsoring this giveaway!
GIVEAWAY RULES

Make a comment on this post telling me why you need this book before midnight Sunday, July 18.
A winner will be selected and announced at the top of this post on Monday.
Only one comment per person unless you earn extra entries.
Giveaway open only to residents of the continental United States…sorry.
Winners must email me to claim their prize within 5 days.
EARN EXTRA ENTRIES
You may earn 1 extra entry each for doing the following (make a separate comment for each thing you do):
Tweet about this contest with a link back here
Facebook about the contest
Subscribe to my feed
Sign up for my newsletter
Add my button to your sidebar
Comment on any non-contest post (must contribute to the conversation)
GOOD LUCK and THANKS!
{This product was provided to Vanilla Joy for review purposes.}