And the winner is…Caron! She said ,"…The first thing I would make is a baby afghan. I've been planning it for months for a friend having her first baby and I haven't been able to find a corded knitting needle long enough to accommodate it." Congratulations!
Send an email to kelsey[at]vanillajoy[dot]com BEFORE WEDNESDAY to claim your prize.
THE PRIZE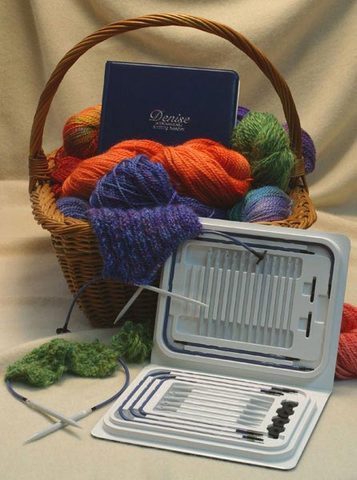 To start off this month's needlecraft giveaways, one Vanilla Joy reader will win the original Denise Kit ($50), complete with 10 pairs of needles (#5-#15), 6 cords (5, 9, 12, 14, 16, and 19″), 4 end buttons, and 2 extenders.
MY REVIEW
Knit Denise sent me a kit to review, and the first thing I noticed about Denise knitting needles is how quiet they are. Quiet, as in totally silent; completely inaudible.
I didn't think this would be such a wonderful thing, but some people get kind of irritated with the clicking of knitting needles when they're trying to sleep in the late hours of the night. Some people will not have to worry about that any more!
So that was a pleasant surprise, but the whole package is wonderful. The Denise kit comes in a very nice book-like case (7″ x 8.5″)  that fits perfectly in a purse or in your travel bag. I was daydreaming about how handy it will be to take just this one set to Oregon with me this summer so I can knit whenever I want and have all my needles (straight and circular) in one small package.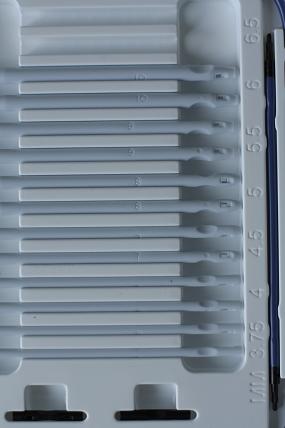 The set includes 10 pairs of needles, sizes 5 to 15. Each set of needles is about 4″ long and can connect to any of the 6 cords to make straight needles from 9″ – 34″ or circular knitting needles from 17″ – 58″.
The needles connect easily and securely to the cords by twisting the needle 1/4 turn to lock in the connection. When I began my first project with these interchangeable knitting needles, I was nervous about them coming apart and losing my work. I would check the connection periodically and it was always secure, so I stopped worrying. As long as you don't intentionally disconnect them, they will stay together perfectly.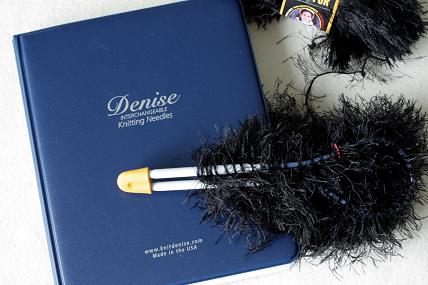 I have also found that when I use Denise for circular needles, my work slides from the cord up onto the needle so much easier than with other circular needles I've tried. I think this is because the point of connection is more gradually tapered and has finger grooves to facilitate connection. This design feature allows the work to move in a much smoother continuous circle – another unexpected highlight. With my other needles, I have gotten very sore fingers from the difficulty of sliding the yarn from the cord to the needle.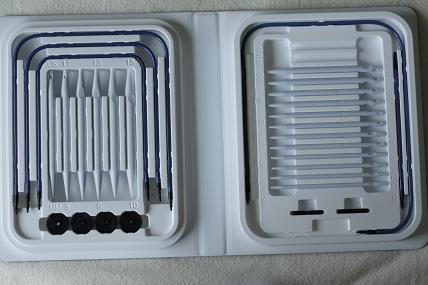 Here are some other great things about Denise interchangeable knitting needles:
each needle has the US size measurement stamped onto it
the case has needle sizes marked in both US and metric measurements
each cord can double as a stitch holder
the set is safe to take on airplanes
You can purchase sizes #17 and #19 separately AND Denise also has a crochet kit.
I love that the original Denise kit has everything I need for knitting right in one place. It's organized, compact, and high quality, and is definitely my first choice when it comes to traveling with my knitting projects. With my Denise kit and a book, what more could I ask for???
Thanks, Knit Denise!
GIVEAWAY RULES

Visit KnitDenise.com
Come back here and tell me what you'll knit first before midnight Friday, April 16.
A winner will be selected and announced at the top of this post on Friday.
Only one comment per person unless you earn extra entries.
Giveaway open only to residents of the continental United States…sorry.
Winners must email me to claim their prize within 5 days.
EARN EXTRA ENTRIES
You may earn 1 extra entry each for doing the following (make a separate comment for each thing you do):
Blog about this contest with a link back to this post
Email 3 knitter friends about the contest
Post about this contest in a knitting forum with a link back here (ex. Ravelry, Knitting Forums, Knitting Help)
Tweet about this contest with link back here (copy and paste http://www.vanillajoy.com right into the text box)
Facebook about the contest
Subscribe to my feed
Sign up for my newsletter
Add my button to your sidebar
Comment on any non-contest post (must contribute to the conversation)
You may also earn up to 25 entries by blogging about this contest and including certain links – click here to read more about earning these entries.
GOOD LUCK and THANKS!
{This product were provided to Vanilla Joy for review purposes.}