The two Prince Lionheart winners are
Kim Pollock – "The complete drying station looks great for all our needs."
Jessie H – "I would love the deluxe drying station! it would be perfect for all our little plates and bowls!"
Email your address to kelsey[at]vanillajoy[dot]com BEFORE TUESDAY to claim your prize.
THE PRIZE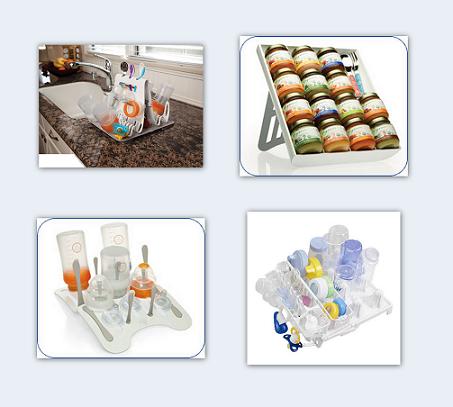 Prince Lionheart is giving away all 4 organizers to 4 lucky winners! Each package will contain:
REVIEW – Complete Drying Station
by guest author Tricia Norwood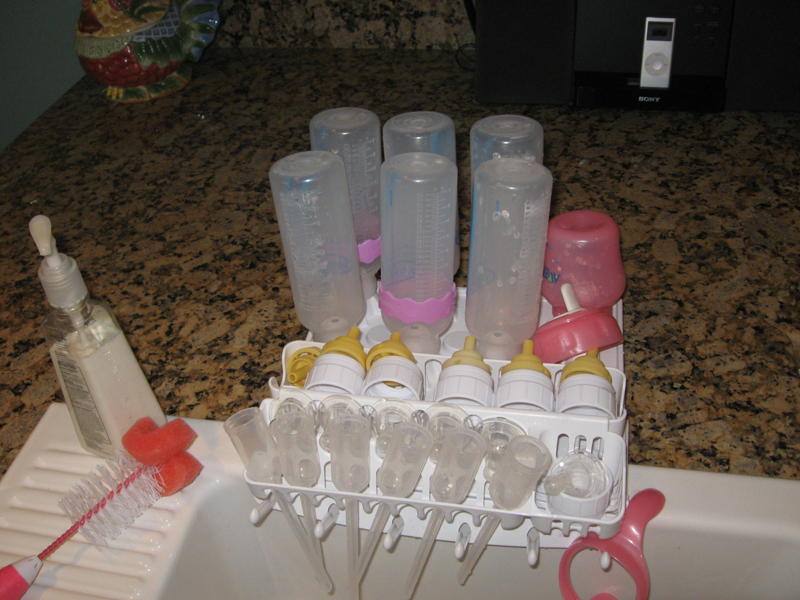 I hate doing dishes; it's the chore that never, ever ends. Sometimes I don't make dinner because I don't want to wash all the dishes that come from eating said dinner. It's pretty sad, I know. So I didn't think I would like hand washing bottles, but since I got my Complete Drying Station from Prince Lionheart my opinion has changed.
There are so many little things that have made my life as a mother of a nine month old easier. First, I use bottles with a lot of extra parts. It was so frustrating to have almost the entire top rack full of bottles and bottle parts. I now have all the spots back for my bowls and cups. (Since we eat cereal for dinner a lot around here those spots are needed!) And I feel like my hand washed bottles are cleaner than what would sometimes come out of the dishwasher.
Also, often ALL my bottles are dirty, and since I didn't have anywhere to put my drying bottles (without them tipping and rolling all over my counter) I would only wash the one bottle I needed at that very moment.  Now that I have the Complete Drying Station I have somewhere to dry all the bottles, with compartments designed to hold all the nipples, caps, and other small parts. I'm so happy to have this small part of my life more organized!
My baby has also started drinking from a sippy cup—well more like chewing on the straw and throwing it around the house, but whatever. The Complete Drying Station has proven itself yet again because it accommodates that cup and my bottles even though they are completely different sizes. I think I'll be using it for a long time to come.
3-in-1 Universal Organizer
by Kelsey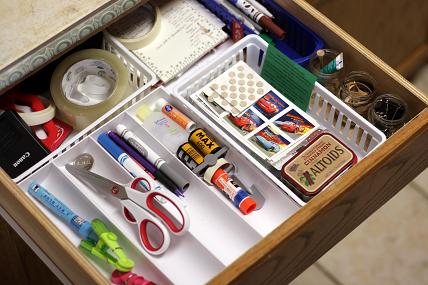 I make my own baby food, so I didn't need this 3-in-1 universal organizer for that, but what I refer to as my Junk Drawer really needed some help. This organizer filled up the rest of the space in that drawer and has kept it organized like never before.
I love to re-arrange and move things around, and I love products that I can use in different ways. This organizer is great because it lays down or can rest propped up on the counter. We'll see how long it stays in my drawer…
Deluxe Drying Station
by Kelsey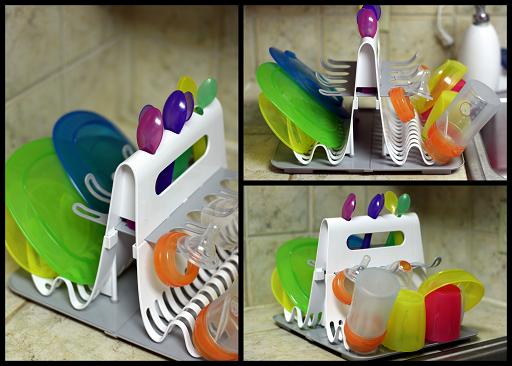 Like Tricia, I had tons of kids-ware cluttering up the scarce real estate around my sink. The deluxe drying station is great for me because we use more kid bowls, plates, spoons, and cups than bottles.
This dish drying rack has slots and hooks all over to maximize our storage capacity in a small space.
GIVEAWAY RULES

Visit PrinceLionheart.com
Come back here and tell me which organizer you would like most before midnight Thursday, April 8.
A winner will be selected and announced at the top of this post on Friday.
Only one comment per person unless you earn extra entries.
Giveaway open only to residents of the continental United States…sorry.
Winners must email me to claim their prize within 5 days.
EARN EXTRA ENTRIES
You may earn up to 25 entries by blogging about this contest and including certain links – click here to read more about earning these entries.
You may earn 1 extra entry each for doing the following (make a separate comment for each thing you do):
Tweet about this contest with link back here (copy and paste http://www.vanillajoy.com right into the text box)
Facebook about the contest
Subscribe to my feed
Sign up for my newsletter
Add my button to your sidebar
Comment on any non-contest post (must contribute to the conversation)
GOOD LUCK and THANKS!
{These products were provided to Vanilla Joy for review purposes.}