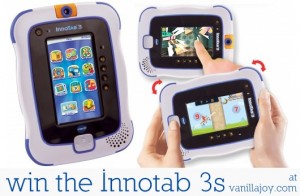 And the winner is… Dawna Williamson! Send an email to kelsey[at]vanillajoydotcom to claim your prize.
Congrats!
THE PRIZE
One Vanilla Joy reader will win a brand new VTech Innotab 3s (retail value $100)!
MY REVIEW
The VTech InnoTab 3S is here! And these lucky kids got to try it out. Here's what we think: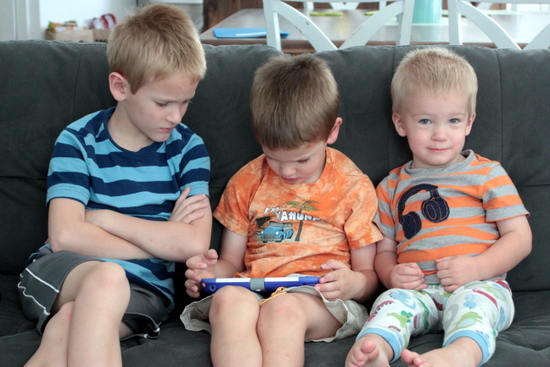 AWESOME!
Gus is taking his first turn playing the maze game on the cartridge that comes with the InnoTab 3s. It was a little maze game with a drop of water that the child has to guide through a maze. The water turns to ice and then melts, and a talking voice tells the child all about water and ice and melting. They loved it!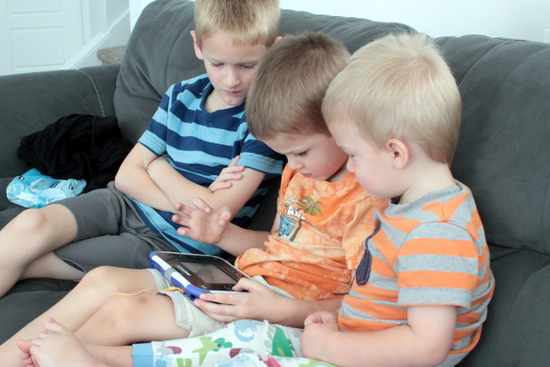 The InnoTab 3s also has some other really great new features:
E-Reader and story dictionary
4 GB on-board memory
Memory expandable up to 32GB with micro SD card (sold separately)
180° 2.0 MP rotating camera / video recorder
WonderCam with over 55 photo effects
MP3 Player
20 total Apps included: Art Studio, Magical Bean Stalk game, H2O Go! game and more
Kid-safe internet browser with pre-selected and parent-approved websites
5″ color touch screen
Secure Wi-Fi connectivity
Also includes calculator, clock, calendar, friends list, notes and more
Microphone and NEW D-pad offer even more ways to play
Includes 2 styluses
Includes Rechargeable Battery Pack and AC Adaptor (a $34.99 value and OUR FAVORITE THING!)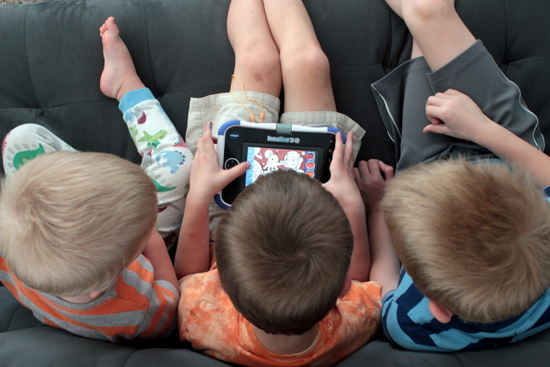 This kids' tablet has plenty of games loaded onto it from the get-go. It's super sturdy and easy for little hands to hold. The stylus connects to the console so it will never get lost, and rechargeable batteries! We love rechargeable batteries!
The camera is a favorite function of this tablet – the lens swivels 180 degrees so kids can easily switch from taking pictures of themselves to taking pictures of their family and friends.
Best of all, I love knowing they can play games and have fun without finding anything on the internet they shouldn't. Everything is perfectly appropriate for kids, from reading apps to coloring, and they will always be safe playing.
And I get to do a giveaway!
GIVEAWAY RULES
Make a comment on this post telling me your favorite game cartridge by midnight Sunday, September 29.
A winner will be selected and announced the following day.
EARN EXTRA ENTRIES
GOOD LUCK and THANKS!
{This product was provided to VanillaJoy.com for review purposes. Thanks to VTech for sponsoring today's giveaway!}