The winner is Staci Jones! She said, "I am willing to try anything. I have 3 young kids under 4. The oldest has Down Syndrome and am looking for something that will help with her."
Email your address to kelsey[at]vanillajoy[dot]com BEFORE FRIDAY to claim your prize.
THE PRIZE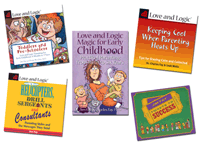 One reader will win the Love and Logic Early Childhood Package ($69), which includes:
Love and Logic Magic for Early Childhood:Practical Parenting from Birth to Six Years (book)
Toddlers & Pre-Schoolers (CD)
Helicopters, Drill Sergeants and Consultants (CD)
Tickets to Success (book)
Keeping Cool When Parenting Heats Up (CD)

MY REVIEW
My husband and I both read Love and Logic Magic for Early Childhood and it just made sense to us. We've tried to implement the principles we've learned and have seen drastic improvement in behavior and general attitude.
The basic idea is to use empathy and consequences to teach children instead of yelling, punishing, spanking, and all those other tactics that just create more defiant and uncooperative children.
I liked this description from the Love and Logic website:
Jim Fay teaches us that we should "lock in our empathy, love, and understanding" prior to telling kids what the consequences of their actions will be. The parenting course Becoming a Love and Logic Parent teaches parents how to hold their kids accountable in this special way. This Love and Logic method causes the child to see their parent as the "good guy" and the child's poor decision as the "bad guy." When done on a regular basis, kids develop an internal voice that says, "I wonder how much pain I'm going to cause for myself with my next decision?" Kids who develop this internal voice become more capable of standing up to peer pressure.
We have chosen just a few principles from Love and Logic Magic for Early Childhood to work on for now – we are trying to respond to misbehavior by saying "Uh-oh, How sad," and taking Elliot to his bedroom for time out rather than lecturing and getting angry. This response is one we use every time he gets in trouble and allows us to show empathy instead of anger. Instead of being mad at us for "getting hm in trouble" he can think about how his actions got him in trouble.
The other thing we're working on is giving Elliot lots of choices so he feels like he has as much control over his life as possible. This one thing has made a huge difference in how cooperative Elliot is. Instead of saying, "It's time to go," and dealing with a tantrum, I can say, "Would you like to go now or in 5 minutes?" He plays for a few more minutes and then happily comes with me.
There are so many great principles in the Love and Logic parenting books, and if nothing else, it has helped me to be more patient and not so demanding of Elliot. I think we forget that our children are so inexperienced and really do need to work things out for themselves with us willing to lovingly help instead of shouting orders and demands.
Learning new parenting skills is difficult, but Love and Logic makes sense and the Early Childhood book is easy to read with lots of examples and scenarios to help you really understand and implement the ideas.
I hope we can master the Love and Logic principles and raise responsible kids. Parenting is so tough, and it's nice to have some help along the way.
Thanks, Love and Logic!
GIVEAWAY RULES

Visit LoveandLogic.com
Come back here and tell me why you should win before midnight Friday, April 2.
A winner will be selected and announced at the top of this post on Saturday.
Only one comment per person unless you earn extra entries.
Giveaway open only to residents of the continental United States…sorry.
Winners must email me to claim their prize within 5 days.
EARN EXTRA ENTRIES
You may earn up to 25 entries by blogging about this contest and including certain links – click here to read more about earning these entries.
You may earn 1 extra entry each for doing the following (make a separate comment for each thing you do):
Tweet about this contest with link back here (copy and paste http://www.vanillajoy.com right into the text box)
Facebook about the contest
Join the free Insider's Club (top right corner)
Subscribe to my feed
Sign up for my newsletter
Add my button to your sidebar
Comment on any non-contest post (must contribute to the conversation)
GOOD LUCK and THANKS!
{This product was provided to Vanilla Joy for review purposes.}