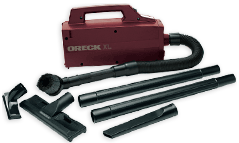 I have been going crazy getting all the dust and cobwebs out of my house with my handheld Oreck. There are several attachments, each perfect for a different job. Today I successfully cleaned all the corners in my stairs. I don't know that I've done that since we moved here 3 years ago. Yikes!
That Oreck does an amazing job, sometimes I can't believe it! My hand was so tired after doing one flight of stairs because the suction was so strong. I had to fight to keep the thing moving or it would get stuck with the suction power.
There are several areas of my house that haven't been cleaned in a long time, mostly corners that I couldn't get at with my old vacuum. I'm looking forward to doing some easy deep cleaning this weekend. The car is on the list – this handheld canister vacuum is light and easy to wield, perfect for the car.
We're going to be doing some late Spring Cleaning thanks to Oreck!