Today is Monday, and I WILL have a giveaway this week, just probably not up and running until tomorrow. It's a good one though…you'll like it.
As for today, I just finished hand sewing the binding onto my Michael Miller Ginger Blossom tumbler quilt. I enjoy hand sewing and always use a slip stitch, which is very easy and quick.
Here's how to do it: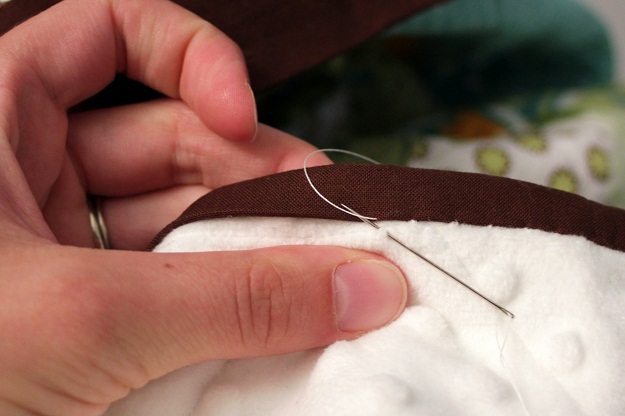 1. Cut a piece of thread about a yard long, thread your needle, tie a knot in the end, and anchor underneath the binding.
2. Directly below where the thread comes out and just along the line where you sewed the binding to the front side of the quilt, grab a few threads. (I used minky on the back of this quilt and grabbing just threads was nearly impossible. You'll really want just a few threads.)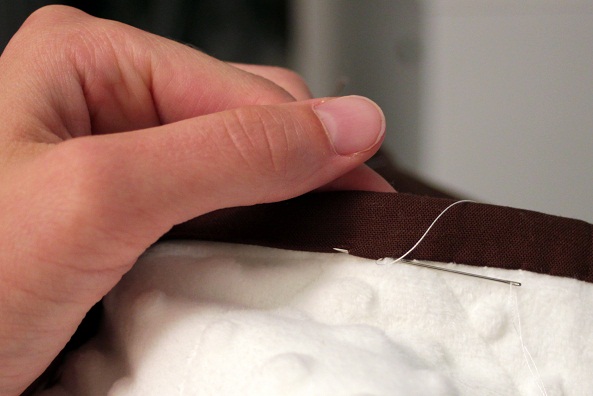 3. Insert the needle directly above back into the fold of the binding tape. Run the needle through the two layers of fabric 1/4″ and then exit the binding.
4. Grab another few threads directly below and repeat.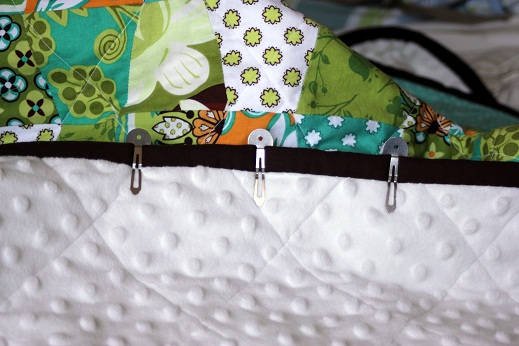 I use those quilting clips (that look and basically are EXACTLY like hair clips) instead of straight pins to hold my binding in place. I find that straight pins through so many layers is bad all around – it shifts the fabric around and they're just so hard to get in in the first place. And they're sharp, and I don't like getting blood on my quilts.
I love the look of a hand bound quilt – if you've never tried it, give it a go. Put on a movie and you'll love it.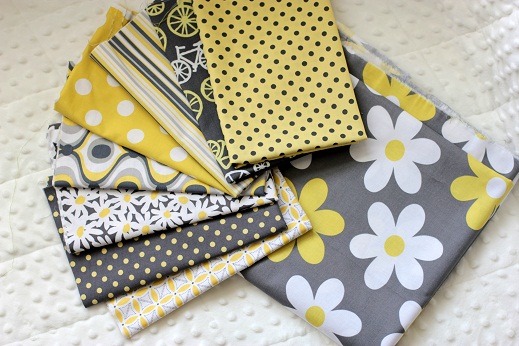 And this is what I'm working with this week – Michael Miller's Citron Grey collection (could it be any more beautiful?!?). I'm doing a variation on a Roman Stripe that I came up with using the Electric Quilt software.
I'm giving Wonky a try for the first time, and it's stressing me out. I'm very much a straight/parallel line kind of girl…so this is good for me and I think it's going to be fabulous!
Stay tuned…