I just finished this fabulous calendar using the Designer's Calendar Cricut cartridge (that I got on Black Friday!), and I'm thinking a customizeable calendar is a pretty great gift idea for this Christmas!
I bought a large white board at Walmart ($15), wrapped the edges in black electrical tape, and drew a calendar grid in permanent black marker. I used black vinyl for the days of the week and the numbers.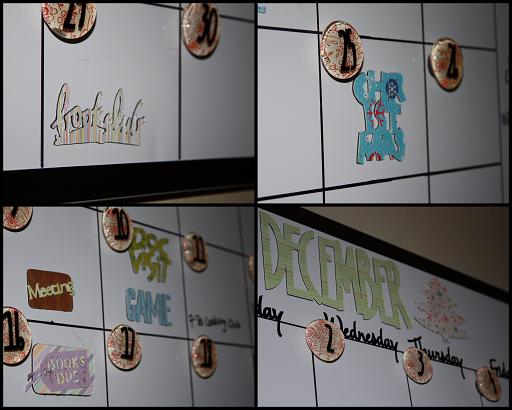 For the numbers, I glued 31 glass rocks (the kind with one flat side) to decorative paper and hot glued a magnet to the back of each one. Then I put the vinyl letters on the surface of the rock.
I cut everything else out with the Cricut using a sheet of magnetic canvas.
I have been using my regular blade, but I'd like to get a deep cut blade. I have to set the multi cut function to 4 (so cut every design 4 times) and then I have to carefully tear the design away from the extra magnet because it doesn't cut all the way through. It will be much easier with the deep cut blade…
I am loving having this huge calendar to keep track of everything we have going on. I love all the "events" in this cartridge, things like spring break, winter break, first day of school, play date, camp, game, practice, check up, anniversary, wedding, date, birthday, party, and lots more. It's also nice to have the months and days of the week welded together in one word.
Happy planning!
Click for more cricut craft ideas.