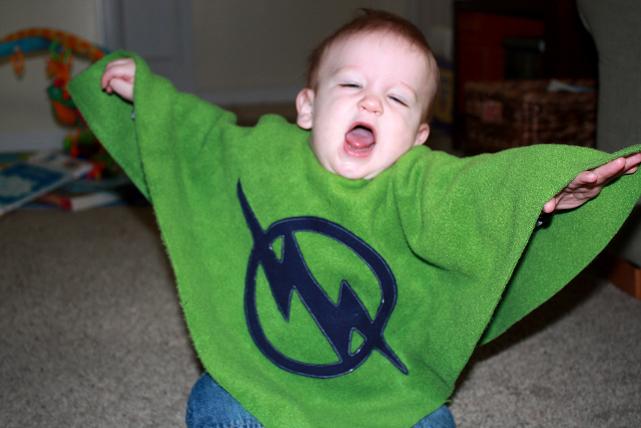 My boys are getting matching superhero ponchos for Christmas! I've finished Gus's poncho, and it looks like he's getting ready to fly and save the day!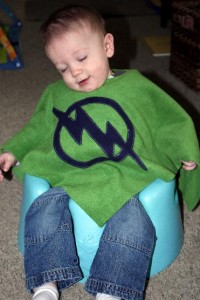 Getting the size right was tricky – I measured Gus from fingertip to fingertip across his shoulders and got 23″. I cut the square bigger than that because from fingertip to fingertip would be the hypotenuse of the square and I didn't have my graphing calculator handy to figure out what the other two edges would be. If that makes any sense at all…
So I would honestly recommend buying a cheap pattern from JoAnn or something just to get the size of the poncho right. I originally cut this one out for Elliot but it was way to small so it went to Gus.
If nothing else, cut the square big and then trim it down to fit.
After that I appliqued this adorable superhero symbol on his chest from the Paper Doll Dress Up Cricut cartridge.
Ponchos really are very easy to make once you have the shape right. I may or may not finish the edges as fleece doesn't fray. Wonder of wonders… So even though Christmas is NEXT WEEK you still have time to whip up a few of these!
Click for more cricut craft ideas.