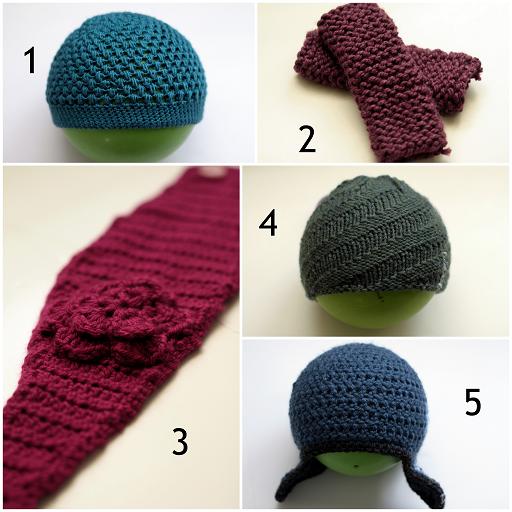 I knitted and crocheted gifts for everyone in my family this year. Besides my parents, I have 2 sisters, 3 brothers, 3 nieces, and 1 nephew. My wrists are a bit sore…
But I love how everything turned out. These are some of my favorites:
A KnitKid Pattern (From my favorite hat pattern book, Hat Heads by Trond Anfinnsen)
The Fingerless Gloves pattern is free on the LionBrand website. It's super easy and a good starter project if you're a beginner.
Yarn: Lion Brand® Wool-Ease® Thick & Quick®
Gauge: About 9 stitches = 4 in. (10 cm) in Garter stitch (knit every row).  If it takes you fewer stitches and rows to make a 4 in. [10 cm] square, try using a smaller size hook or needles; if more stitches and rows, try a larger size hook or needles.
Cuff (make 2)
Cast on 15 stitches. Work in Garter stitch (knit every stitch on every row) until piece measures about 8 1/2 in. (21.5 cm) from beginning. Bind off, leaving a long yarn tail.
Finishing
Fold knit piece in half. Thread yarn tail into blunt needle. Sew sides of Cuff together for about 2 in. (5 cm). Leave next 1 in. (2.5 cm) unsewn for thumb opening, then seam remainder of sides. Weave yarn ends into inside (wrong side) of Cuff.