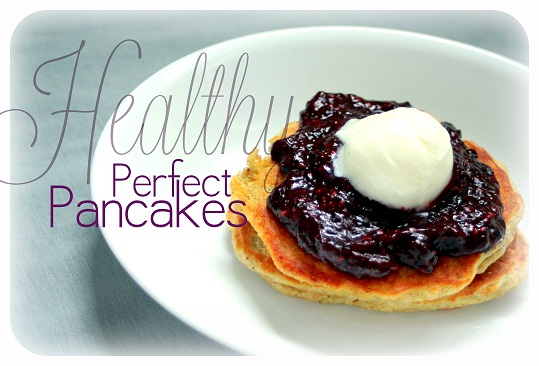 Are you ready for the most delicious pancakes you've ever tasted?
These pancakes have a hearty, nutty, wholesome flavor that is perfect for breakfast, lunch, or dinner. At our house, it's mostly dinner.
Healthy Perfect Pancakes
Mix 1 1/2 c. milk and 4 T. vinegar and let sit for 5 minutes.
In a medium bowl mix
1 c. white flour
1 c. wheat flour (freshly ground is best, get a WonderMill!)
4 T. sugar
2 t. baking powder
1 t. baking soda
1 t. salt
1 c. total add ins: Flax seed, flax meal, wheat germ or bran, 10 grain cereal mix, whatever you love
Add
2 eggs
4 T. melted butter
Soured milk
Mix until just combined. DON'T OVERMIX!
Our favorite way to serve is with a fresh (Okay, it's really frozen) berry sauce and a scoop of Dannon (or favorite brand! Mostly natural ingredients) vanilla yogurt. Oh goodness…
5 Min. Berry Syrup
Add 1 c. frozen blueberries and 1 c. frozen raspberries to a sauce pan with 1/4 c. water and 1/4 c. sugar. Simmer on low until the berries burst. Puree with a hand blender.
Optional: Thicken with Clear Gel (used for canning)
These pancakes with this syrup and a little bit of yogurt tastes just like dessert.
I love dessert for dinner…
{pancake recipe shared with me by Katie Collins, an old college friend of my sister's. thanks katie!}