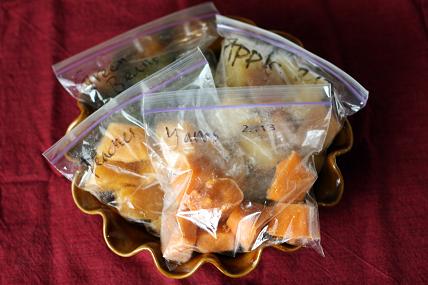 I have just gone CRAZY in love with making my own baby food. It's so inexpensive and so easy and probably healthier too. Gus has quite an appetite, and I just keep popping these little cubes into the microwave until he's satisfied.
Just steam/cook the vegetables and fruits, puree them with water, and freeze in ice cube trays. Transfer to plastic bags and label with the date. So easy! (I use the Beaba Babycook machine, which makes it that much easier, but your stove and a blender will do the job just as well.)
We've done yams, sweet potatoes (they are different, you know…), apples, pears, green beans, peaches, and butternut squash. This weekend I'm going to do some peas and carrots also. I use peaches that I bottled and canned green beans. I steam and freeze them all separately and them combine them for his meals, so pear and apple, peas and carrots, pear and peach, apple and peach, butternut squash and yams,… you get the idea.
If you have never tried making your own baby food, give it a shot. I think you'll like it!