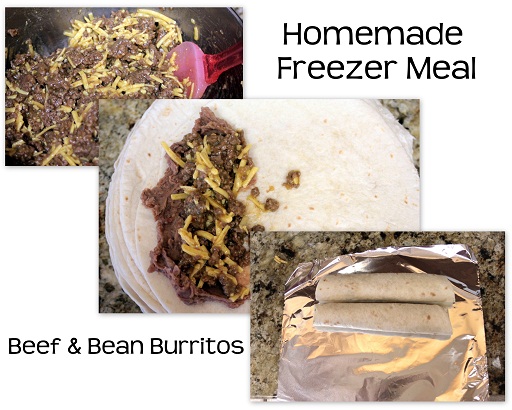 There's just no good way to photograph ground beef…
But don't let my photog skills put you off these awesome burritos!
I'm so into freezer meals right now, and I got tired of my very thin husband not taking a lunch so I made him up some frozen beef & bean burritos (just like the nasty ones he loves from the store that I REFUSE to buy…).
They couldn't be any easier. Or more convenient.
Here's my recipe:
HOMEMADE FROZEN BEEF & BEAN BURRITOS
5-6 lbs. lean ground beef
5 c. raw pinto beans
4-10 oz. cans green enchilada sauce
4 c. cheddar cheese
72 – 10″ flour tortillas
1. Cook ground beef until no longer pink, drain fat, season with 1 c. taco seasoning and 2 c. water and simmer about 20 minutes or until water has mostly evaporated.
2. Cook pinto beans (in a pressure cooker, it's the ONLY way to do beans) and puree them. (Or buy 8 cans refried beans)
3. Combine seasoned ground beef, enchilada sauce, and cheese.
4. Layer beans and bean mixture on one end of each tortilla, roll up, and place two at a time, seam down, on aluminum foil.
5. Wrap burritos in foil and put in Ziplock baggies.
6. Freeze
7. Thaw/heat in microwave and ENJOY!
My hubby has been taking a package of burritos every day for lunch. He's happy (and not starving), I'm happy.
After everything was cooked, assembling 72 burritos only took about an hour and it was time well spent.
Do you have any favorite freezer meal recipes? Do share…