I've been having a terrible time hemming my knit projects. I want to use a double needle hem because it looks so store-bought, but I kept getting this awful tunneling! Any sympathizers?
This weekend I vowed to figure out how to make it work. I tuned in to the Olympics and settled in to figure this darn problem out, and I have a solution for us all.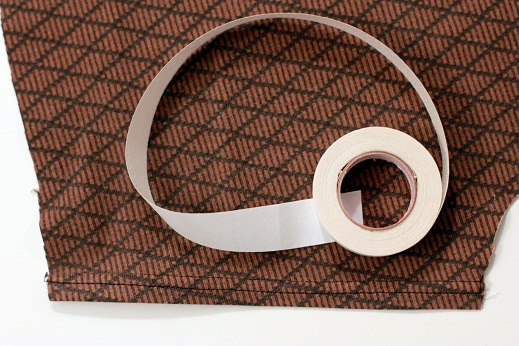 Adhesive tape. I use the Heat'N'Bond brand, it's 3/8″ wide and it works wonderfully. (You might remember this adhesive tape from my Sweater to Cardi tutorial…)
Turn your fabric wrong side up, place the hem tape paper side up about 1/2″ from the raw edge of the fabric, press in place.
Let cool and remove the paper backing. Fold up the raw edge so the top of the raw edge matches up with the top edge of the adhesive tape and press in place.
Using a double needle (a narrower one works best I think…), sew your hem with the right side of the fabric up. Just make sure you're sewing on top of the adhesive tape.
The tape stabilizes the fabric and holds it flat so you don't get that nasty tunneling all the way across.
So easy! It did require a bit more time, but totally worth it.
This project will eventually be a little romper for Linus with that fantastic Michael Miller stretch knit fabric. Tutorial coming soon…