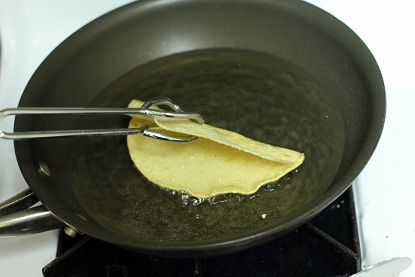 Has anyone else noticed that there has been a shameful lack of interesting new crafty content here on Vanilla Joy? Hmmm…me too. Sorry about that. I am STILL working on my Moda Sugar Pop quilt, and I have pledged to not start any other projects until finishing my quilt because otherwise it just won't ever get finished and that would be too big a shame.
I am over half way finished with the top, and I lied.
I do have some fun fabric flower tutorials planned for next week. But that doesn't really count as a "project" does it??
I think not…
Anyway, I'm not really crafting, but I am definitely cooking. I have been cooking up the most delicious meals, I can't hardly stand it.
For example, I made a pot roast for THE FIRST TIME IN MY LIFE last Sunday and we've been eating from that rump all week.
Last night we had tacos and I made my own shells. I don't particularly like the burnt taste of store bought shells, and doing it yourself is so easy…why not.
As you can see from that very instructive picture, fill a small skillet with a little bit of oil, maybe 3/4 c. – 1 c. and turn stove on to medium heat until it's nice and hot and will singe your eyelashes if you get too close.
Don't get too close.
Wrap your frozen corn tortillas (if they're not frozen, skip) in a wet wash cloth (I would have taken a picture of this step, but my once-white washcloths are so hideously not-white anymore, I couldn't bear the shame) and microwave until they've dried out and softened.
Using tongs, fold the tortilla in half and fry one half at a time.
I did some flat ones too for tostadas, and if you don't have tostadas at your house for dinner, you're missing out.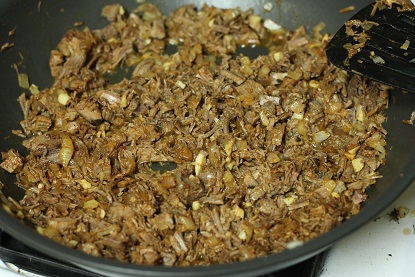 I made that leftover roast beast into
TACO FILLING
Dice half an onion and saute in olive oil until translucent. Add 3 minced garlic cloves, 1 lb. roast beast or ground beef, 2 T. chili pepper and 1/2 T. cumin, some salt, and some water to encourage juiciness.
Oh my word, these tacos hit the spot. I would have taken a picture…but I ate it too fast.
Maybe next time.