My ironing board is an odd size and my old cover was useless, so I made my own tonight. It cost under $5 and took less than 2 hours. I opted for the silver  ironing board cover fabric that is cotton with an aluminized coating for two reasons.
Fabric gets scorched and nasty looking eventually so I am hoping this will look nicer and last longer than fabric.
This fabric is made specifically for ironing boards, oven mitts, etc. and has better heat reflecting qualities than regular fabric for more efficient ironing and pressing.
To make an ironing board cover you'll need the following:
Pattern paper (I use the medical exam table paper)
Ironing board fabric or regular cotton fabric (about 6 inches wider/longer than your ironing board)
Insul-Bright Insulation for the padding (about 6 inches wider/longer than your ironing board)
Enough thin rope to fit the diameter of your ironing board
1 cord stop
Step 1 Trace your ironing board to make a pattern.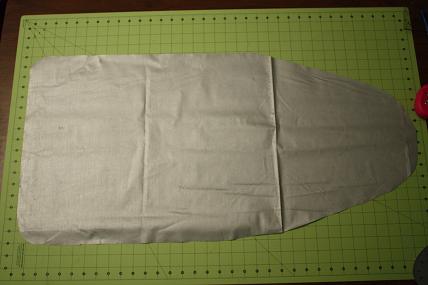 Step 2 Cut out the cover fabric 2 1/2″  wider than the pattern.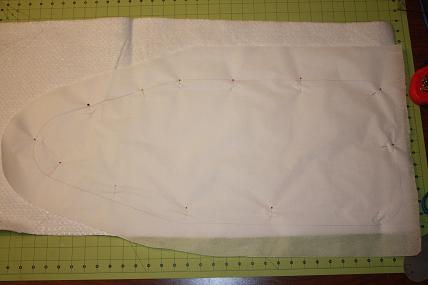 Step 3 Cut out the insulation/padding fabric 1″ wider than the pattern.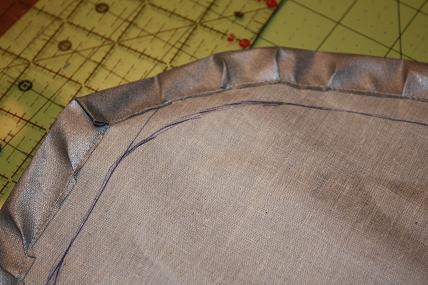 Step 4 Make a casing by folding the edges of the cover fabric down 1″. (That pen mark was a mistake – disregard.) Edgestitch all the way around, sewing down the tucks made by the excess fabric in the curves. Remember to leave a finished opening for the rope to come through.
Step 5 Center the insulation fabric on the wrong side of the cover fabric and baste around the edges.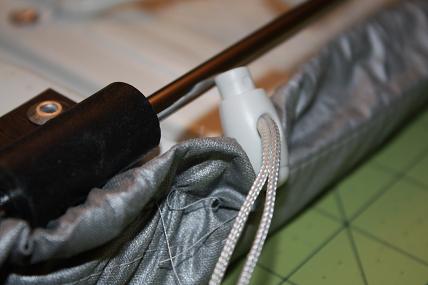 Step 6 Tie your rope to a safety pin and work all the way around the cover in the casing.
Step 7 Once you have both loose ends out of the casing, attach the cord pull, center on the ironing board, and cinch until tight.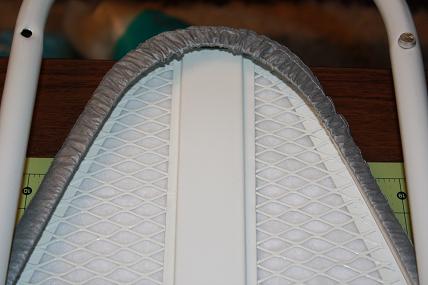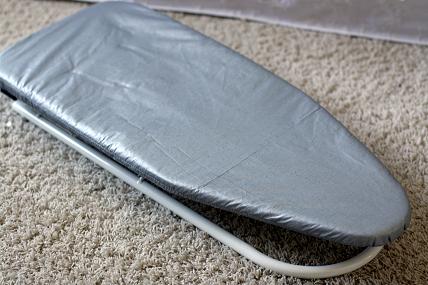 Ironically enough, the silver cover fabric got quite wrinkly, but other than that, I think it looks pretty good! And this will be so much more functional than what I have been using.
Any ideas on how this could have been easier or better? Let me know your suggestions!