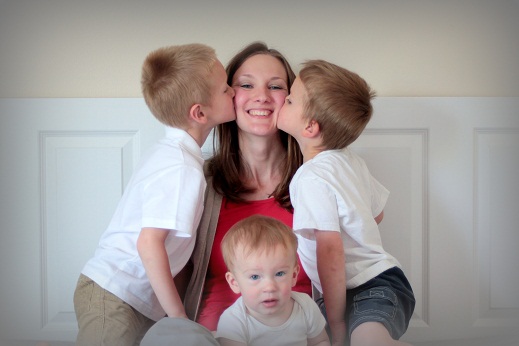 Occasionally (not as often as I should…) I get so overwhelmingly grateful for all the good things in my life. Mother's Day was one of these times. My sweet husband and sons got up extra early to make me a delicious breakfast of scrambled eggs, toast, and juice. I was sleeping soundly when they surprised me with a beautiful breakfast, and then Gus helped me eat it in bed. It was one of those small but sweet moments that I have often enough to keep me from completely losing my mind.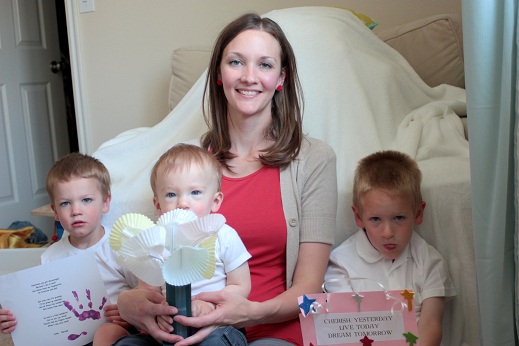 My boys were old enough this year to really participate in Mother's Day, and Boyd helped them make me a precious little bouquet of paper flowers. Then they both surprised me with little somethings that they had made individually. I can't believe Elliot kept his a secret – he made it the Thursday before and didn't say a word! He was so proud when he presented it to me, and that was one of the sweetest mom moments I've had yet.
As a mom, I think often about all the sadness and hurt that comes to children. My heart breaks for the millions of children throughout the world who struggle every day to fulfill their most basic needs. And then there are abused and neglected children. There is no end to the suffering and pain of little children in this world. I feel so strongly that it is our moral obligation to do what we can to give back a portion of what we have received.
One small thing I do is knit or crochet preemie hats and booties to donate to the LDS Humanitarian Center, which was "established in 1991 in Salt Lake City, Utah to prepare emergency relief supplies for shipment worldwide, train those desiring to develop employable skills and become self-reliant, and offer service opportunities." It's my way of giving back and expressing gratitude for the comforts of life we enjoy. It is a small thing, but it is something.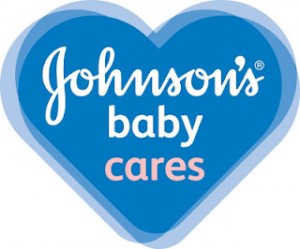 Johnson's Baby Cares has partnered with Save the Children to help children on a much larger scale by
donating baby care essentials (lotions, washes, shampoos, diaper creams, etc)
funding, and
educational tools
to protect mothers and children in disaster stricken areas and situation. Johnson's will also
You and I can show our support of this initiative by purchasing any JOHNSON'S® Baby product between April 15 and June 10, 2012 and redeeming a $0.50 cent coupon at retail stores, $0.25 cents of which will be donated to Save the Children. Look for additional ways we can help Johnson's Baby and Save the Children throughout the rest of this year.
There are little things we can do, little ways we can give back and you can help Johnson's Baby and Save the Children make a real difference. Watch and share the video and do something to give back today!
I wrote this review while participating in a campaign by Mom Central Consulting on behalf of Johnson & Johnson and received a promotional item to thank me for my participation.