{The winner of the Sound Spa Lullaby from Homedics is Julie B! She said, "My girls would love this product not only for the sounds but also would be entertained by the images projected onto the ceiling. Very nice giveaway, thank you for the opportunity to win one."
Email me at kelsey[at]vanillajoy[dot]com to claim your prize. Congratulations Julie, and thanks again to Homedics!}
Today is the first day of our Kid Stuff Giveaway! Over the next several weeks, there will be some awesome prizes from lots of big name companies. We're going to start off with a very practical and useful product from Homedics.
THE PRIZE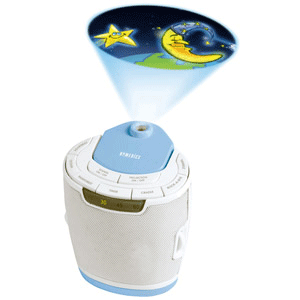 Today's winner will receive one Sound Spa Lullaby from Homedics, a brilliant product that will help everyone in your house get a better night's sleep!
MY REVIEW
Last Christmas my sister brought her Homedics Sound Spa to help her daughter sleep with all the extra noise and commotion that comes when you have 10 adults and 5 children under 3 in the same house, and it worked really well.
Homedics makes several different Sound Spas, each with different features, but all intended to help with baby sleep. The Sound Spa Lullaby comes with the following features:
6 different sounds – Twinkle Twinkle Little Star, Rock-A-Bye Baby, Cradle Song, Rain, Ocean, and Heartbeat
Rotating Picture Projector
Auto Timer
My favorite sound is rain (not too surprising since the thing I miss most about living in Oregon is the rain…), but I also love that they have Heartbeat. I'm going to try that one out with my newborn – I think that sound will be very comforting to him, and hopefully will help him sleep long stretches at night!
I also love the projector – the disc rotates slowly and is totally mezmerizing, just the thing to put someone to sleep!
I took this little video so you could see what the projector looks like – it's hard to see because I had to video in the dark.
The timer is great as well – I usually set the timer for 15 minutes so that the music/sound can lull my son to sleep but not get him totally used to sleeping with noise. My sister leaves hers on all night, so her girls sleep through noise just great. Either way works fine.
The best part about the Sound Spa Lullaby is that you can mix and match all these features. You can use the projector with or without music and vice versa, and use the timer with any other option. It's a solid product with a good design – all the buttons are right on top, easy to reach and use in the dark. It's simple to set up and a miracle worker at night time! They're totally affordable at between $20 – $30, so I totally recommend this product to any mother. It has made our nights much more peaceful for sure!
GIVEAWAY GUIDELINES

Visit Homedics.com.
Come back here and leave a comment telling me your favorite Sound Spa product before midnight Thursday, April 23.
A winner will be selected and announced at the top of this post on Friday.
Winners will have 3 days to claim their prize – if I don't hear from the first winner, another winner will be chosen.
Only one comment per person unless you earn extra entries.
Giveaway open only to residents of the continental United States…sorry.
EARN EXTRA ENTRIES
You may earn 1 extra entry each for doing any of the following (5 total extra entries possible). You must leave a separate comment for each extra entry.
Blog about the contest with a link back here
Follow me on Twitter
Twitter about this contest with link back here
Subscribe to my feed
Sign up for my newsletter
Add my button to your sidebar
Comment on any non-contest post (must contribute to the conversation)
GOOD LUCK and THANKS, Homedics!