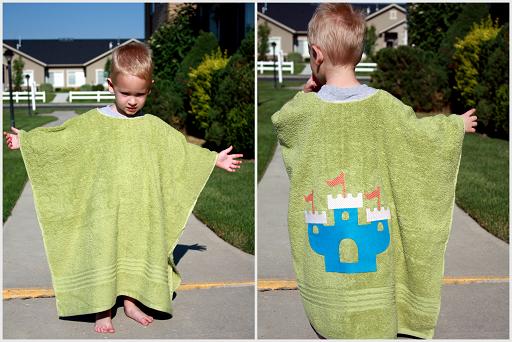 I walked by a display of towels at Walmart and saw that they were only $3, so I thought now would be a good time to make a kids towel swim cover up! It's really easy and is going to come in handy when we're on vacation in August!
Supplies
regular sized bath towel
applique pattern (a Cricut makes this super easy)
basic sewing supplies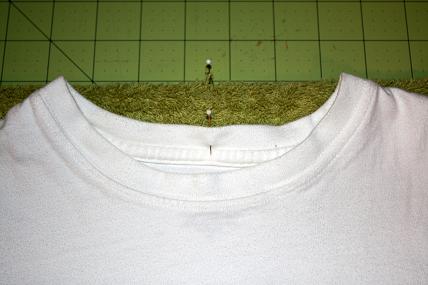 This swim suit cover up is for Elliot, so I used one of his t-shirts to tell me how wide to cute the neck hole.
1. Fold the towel in half and mark the centers of both the towel and the t-shirt. Line up the centers and use the t-shirt as your cutting guide.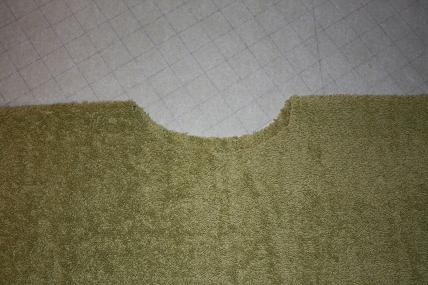 I cut the front side down a little farther just like a regular shirt.
2. Serge or otherwise finish the neck opening.
3. Sew up both sides of the towel, stopping about 8″ from the top fold to create the sleeves.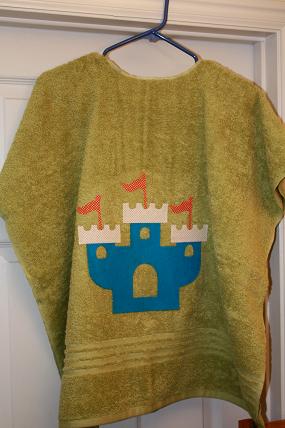 4. Applique a design and/or your child's name on the back/front.
I used fabric scraps and my Cricut Expressions (of course!) to cut out the sand castle applique with the Life is a Beach cartridge. (Don't forget about the Cricut Golden Ticket Scrapbook Cruise Giveaway!)
That's it! My son was asleep when I finished, so I'll have to get a picture of him in the morning. And I'm still debating as to whether or not I should put his name on it…we'll see…
For an adult cover up, use an oversized bath towel. And if you don't want to take the time to applique it, you can make this swim cover up in about 10 minutes!
Click for more cricut craft ideas.