I've always been a little jealous of a well planned/built pantry. There's nothing more frustrating than bad planning when it comes to storage! We don't have an actual pantry, but the Cansolidator Pantry by Shelf Reliance might be even better than the real thing, and you have a chance to win one! Shelf Reliance is giving their Cansolidator Pantry to 3 lucky winners! Read on…
PRODUCT DESCRIPTION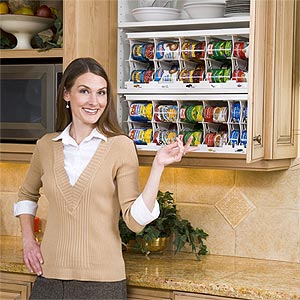 Shelf Reliance Food Rotation Systems are the best you'll ever find to help you keep your canned foods fresh and current. The Cansolidator Pantry is a front loading system that automatically rotates up to 40 cans of from 3-4 different sizes. It's easy to put together and takes the pain out of rotating your food. At 11″ high x 20″ wide x 16.5″ deep, the Cansolidator Pantry is just the right size for your pantry or a kitchen cupboard.
MY REVIEW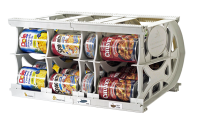 Our makeshift pantry is really a small hallway in our basement – not the best for accurate food rotation. The Cansolidator Pantry is perfect because it makes food rotation and can storage possible and easy even in awkward spots. My son loved "helping" fill it up, so it's a good distraction/toddler activity also.
Setting it up was fast and easy. Depending on the sizes of your cans you can adjust the racks and personalize it to your needs. If we run out of big cans and switch to small, we can easily adjust the spacing.
I feel better knowing that we're not accidentally eating food from the new cans I just bought and saving old out-dated ones in the back that I didn't know about. Proper food rotation is important for your health and your taste buds, and the Cansolidator Pantry makes all of that automatic – you don't even have to think about it.
The Cansolidator Pantry is definitely one of those products that you're always glad you have around because the utility exceeds the price. Hopefully over time we'll be able to get all of our canned foods into Cansolidators.
________________________________________________
GIVEAWAY GUIDELINES

Shelf Reliance is giving a Cansolidator Pantry to 3 lucky winners! To enter:
Stop by ShelfReliance.com and browse through their products.
Come back here and leave a comment before midnight Saturday, January 31, stating the Shelf Reliance product you'd most like to have.
A random winner will be selected and announced in a new post Monday morning.
Only one comment per person, please.
Giveaway open only to residents of the continental United States…sorry.
EARN EXTRA ENTRIES
You may earn extra entries for doing any of the following things:
Subscribe to my feed
Sign up for my newsletter
Blog about the contest with a link back here and to Shelf Reliance
Add my button to your sidebar
Each of these things will get you 1 additional entry. To get credit for extra entries, email your total number of extra entries to contest@vanillajoy.com. Good luck!