{The winner of the 250 GB Clickfree Backup Drive is…KAREN! She said, "Wow, what a wonderful product. This would give me piece of mind to know everything was backed up! Thank you for the opportunity."
Email your address to me at kelsey[at]vanillajoy[dot]com to claim your prize. CONGRATULATIONS!}
Today's giveaway is for a product that you scrapbookers do not want to be without for a second longer! It is one of my favorite products of this whole giveaway month, hands down, and has made all my photo nightmares disappear!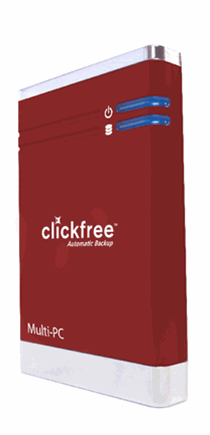 TODAY'S PRIZE
One reader will win a 250GB Portable Backup Drive from Clickfree.
REVIEW
Oh my, this is one of the slickest piece of technology ever, and perfect for scrapbookers who need to protect those precious photos!
Clickfree's portable backup drives are unique because they require no installation software. This was the least confusing, most user friendly piece of computer technology that I've ever used. You take it out of the package, plug it into your computer, press "start", and it automatically backs up over 400 different file types it finds on your computer including photos, music, videos, presentations, emails, spreadsheets, favorite websites, and lots more.
This drive is so awesome because it really is totally AUTOMATIC. Do you know how many hours of my life I've wasted going through my photo backup CDs/DVDs making lists of all the folders on each to determine what I have and have not already backed up? Honestly, I had kind of given up on backing all my photos up because I just couldn't figure out a good system for doing it.
Every time you plug this baby into your computer, it automatically backs up anything new.  I wish I had this Clickfree backup drive about 2 years ago because then I wouldn't have lost some irreplacable baby/pregnancy pictures of my son. It makes me sick to think about, but it's over and done, and I don't ever have to worry about losing any of my pictures again.

Because it's automatic, the Clickfree drive is ideal for those non-technical people in your life. My mom has been having the same back-up woes that I have, only she doesn't get how all the saving things in different places works. She needs a Clickfree drive because all she'll have to do is plug it in once a month and all her files will be safe and secure!
Oh, and one last thing – it's tiny. When I got the box in the mail I thought someone had made a mistake. I was expecting a much larger package, but the Clickfree portable backup drives are only slightly larger than an iPhone.
If you're looking for a portable backup drive, Clickfree is the way to go because it's so easy to use. You won't be sorry!
GIVEAWAY GUIDELINES

Visit Clickfree.com and browse their products.
Come back here and leave a comment before midnight Tuesday, March 31.
A winner will be selected and announced at the top of this post on Wednesday.
Only one comment per person unless you earn extra entries.
Giveaway open only to residents of the continental United States…sorry.
EARN EXTRA ENTRIES
You may earn 1 extra entry each for doing any of the following (5 total extra entries possible). You must leave a separate comment for extra entry.
Blog about the contest with a link back here
Subscribe to my feed
Sign up for my newsletter
Add my button to your sidebar
Comment on any non-contest post (must contribute to the conversation)
GOOD LUCK and THANKS, Clickfree!