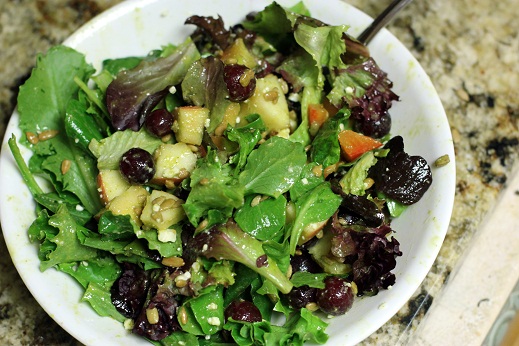 This is what I'm eating right now.
A fruity green salad.
I'm a big late night snacker. And this is my favorite snack/meal of the day, as I've had it twice and may just whip me up some more as soon as I down these last few bites.
So good, and I blame at least half of it on the lime cilantro dressing I just discovered (through a most beloved sister-in-law).
Cilantro Lime Vinaigrette
1/4 c fresh lime juice
1/8 c white wine vinegar (plain white is fine)
1/2 c cilantro leaves
1 Tbs honey
1 Tbs brown sugar
1/4 tsp kosher salt
1 tsp fresh chopped garlic
2 1/2 tsp Dijon mustard
3/4 c light olive oil
Mix all ingredients in a blender.
I blame the other half on…the other half of the salad. The stuff part. Which includes:
spring mix greens
red bell pepper
pink lady apple (oh how I love you…)
red grapes
orange
sunflower seeds
feta
I love food.