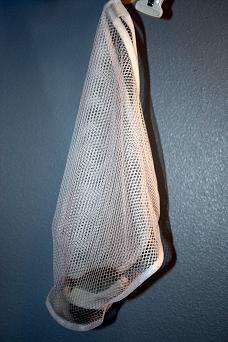 Having a newborn again means we're back to doing lots of laundry. With all the burp cloths (my baby's a spitter), soiled onesies, blankets, and sheets, we're doing at least a load a day. That's a lot for only a 4 person family!
To make our laundry sorting and folding easier, I've started putting baby socks in a mesh lingerie bag. Those tiny things end up hidden or stuck inside other clothing and we're always coming up short. Putting all the little socks in a mesh lingerie bag  makes finding all the pairs and folding them so much easier.
What tricks do you use to make laundry easier at your house?