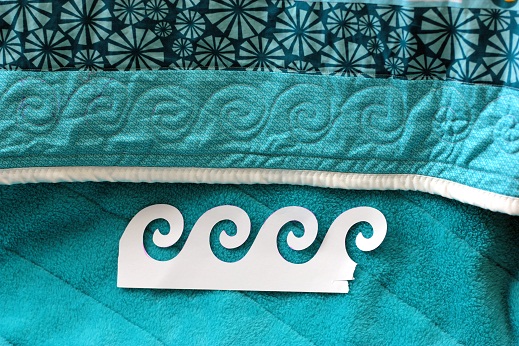 For a while now I've been wanting to try machine quilting a Cricut design onto one of my quilts. I used this border wave design from Life is a Beach on my Marine quilt (by Dan Stiles), and I love how it turned out!
I originally quilted straight horizontal lines, but I did them 3″ apart and it's just not enough quilting. I've already bound it, but I went ahead and quilted a little more on top anyway. I'm doing this Cricut wave design all around the border and then a loopy design on the rest of the quilt.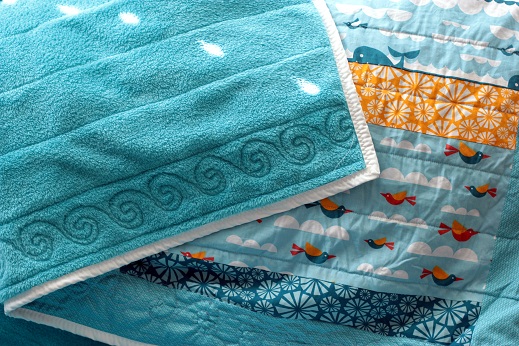 I used a minky-like fabric as the backing with not batting in between, and that has complicated the quilting a bit…my bobbin thread keeps breaking and it puckers on top and it's been very frustrating. Any tips? I've tried both cotton and polyester thread and adjusted the tension but I'm still having problem and I don't know what to do…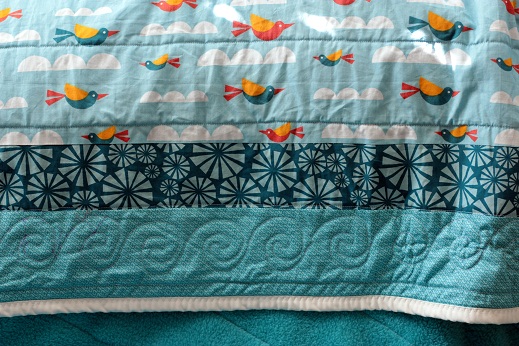 You can see how it puckers on the right hand side of the wave design – it was ok at first, I don't know what happened!
This is a good experiment though, and next time I try quilting I'll be using all cotton which I think will be lots easier.
But just think of all the possibilities of using Cricut designs as machine quilting patterns…I'm thinking I might throw some little birds or fish or whales into the loops somewhere. And on my Riley Blake pirate quilt I'm going to do a pirate ships and maybe even some other piratey things. Can't wait! As long as I can figure out the tension thing that is…