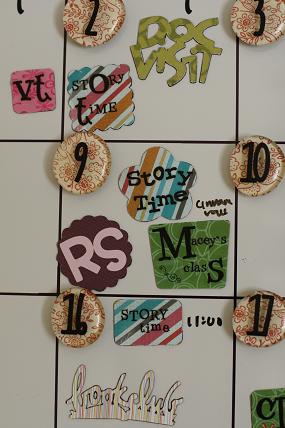 It occurs to me that I love magnets and I have a lot of them. Particularly on my magnet calendar. And they're so easy to make. So if you've never done it, don't be afraid. It's easy.
I use my Cricut to cut the basic magnet shape out, but you can trace basic shapes onto the back of the magnetic canvas and cut with scissors.
I just got a deep cut blade, which you set to 6 and do multi cut (4). But I used my regular blade for a really long time. I used the same setting (blade depth 6 and multi cut -4). The regular blade doesn't cut all the way through but scores it enough to where you can easily finish the job with scissors, a razor blade, or even tear away the excess magnet.
Embellishing is always the best part. Sometimes I use my own handwriting but most often I use letter stickers (this is a great way to use up odds and ends) or use die-cut letters or numbers.
If you do have a Cricut, the Designer's Calendar has some great event phrases and words like the "bookclub" and "doc visit" up there.
Customized magnets would be so great for a magnetic chore chart as well – you could make magnets with your children's names, days of the week, and all their chores to move around and track their progress.
Happy crafting!
Click for more cricut craft ideas.