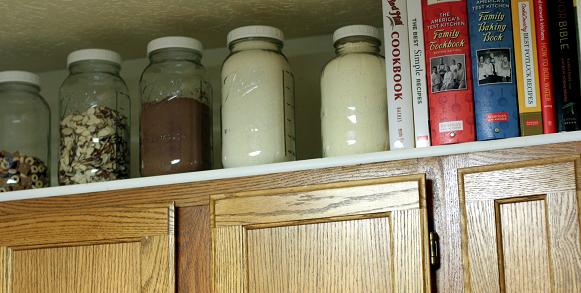 I am really loving mason jars for EVERYTHING. I love eating my canned goodness, washing my jars, and filling them with ribbon, thread, buttons, paperclips, fabric scraps, cranberries, trail mix, you name it.
My newest favorite is 2 quart mason jars. Did you know about these? I had no idea until I found them on the Ball website and then I found them at a local grocery store. One quart jars don't hold enough of things like pasta, nuts, etc., but the two quart are perfect! I bought me a case and filled them with all those bulk items I buy at Winco. And I love seeing my beautiful ingredients on my cabinets too.
I've got some homemade trail mix, sliced almonds, cocoa, coconut, and pancake mix. The next step is to buy another case and cut some vinyl labels for them all.
Glass jars make me so happy.