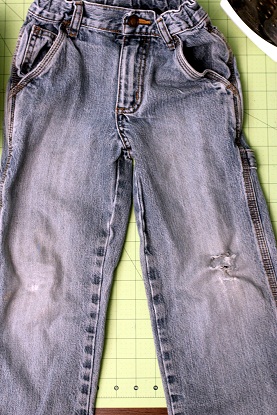 We go through jeans in this house about like we go through toilet paper.
It's not my favorite task, but I don't mind patching them up. I save all Boyd's holey jeans (he has almost as many as the little boys do) for patches.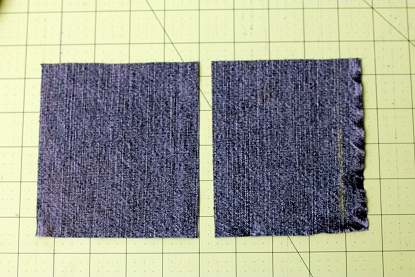 To patch your very own toddler's jeans, cut a patch large enough to cover the hole and then some. The fabric around the hole is ALWAYS wearing thin, so be generous.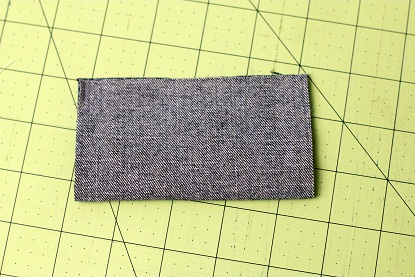 Working with one patch at a time, fold it in half…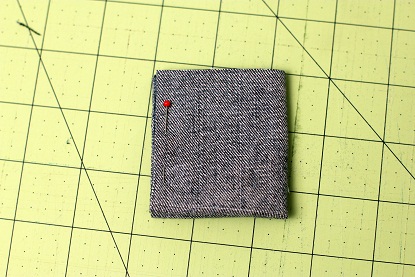 …and then in half again. Pin one edge closed.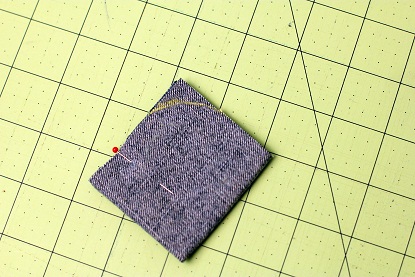 Grab a small circular something and trace a curved edge on the corner with no folds. There should only be one…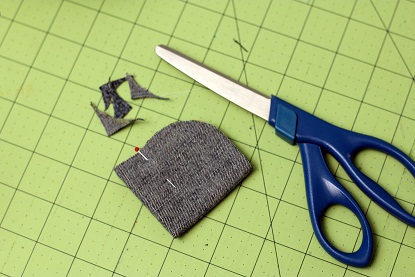 Round that corner so the patch is a nice rectangle with rounded edges and pin into place on the jeans.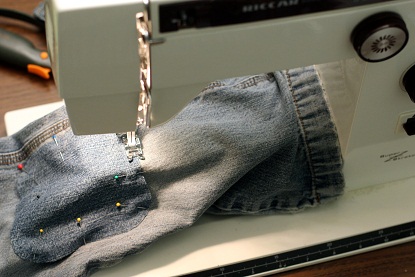 The sewing is the tricky part…You can get to the patch through the waist or the leg opening. I'm not sure if one is easier than the other. Try both ways and see what you think…
Set your machine to do a zigzag stitch – I do the widest my machine will allow with a very short stitch length so it's like a satin stitch.
Pick a place to start, and go for it!
The hardest part is moving everything you don't want to sew out of the way. Check and double check and triple check the whole time you're sewing to make sure you don't have any extra fabric caught under the patch.
Sometimes you have to stop and start over in another place if you get too twisted up.
Be patient. Take a break if you need to. But you can do it.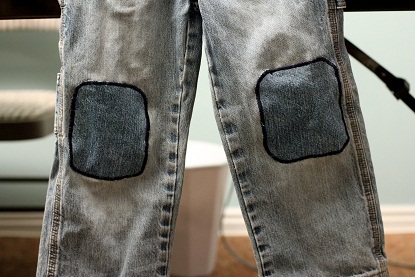 They're not too bad on the eyes…and these patches will extend the life of these jeans by at least another two weeks!
Happy patching!