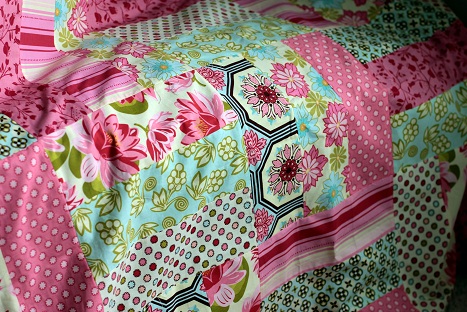 I know I wrote about this quilt a while ago in my Michael Miller giveaway post, but I love it so much I wanted to share it again. Being the mom of 2 boys, I don't get nearly enough pink in my life, and this Ginger Blossom quilt with all the pinks has really satisfied that longing for girly…
I used all the pinkish fabrics from Sandi Henderson's Ginger Blossom fabric line that Michael Miller sent me a while ago to make a small quilt. I've never done this pattern before and I liked how easy it was to figure out and put together.
The fabric is all a nice medium weight and feels tightly woven and thick, which is so nice to quilt with. Michael Miller always has high quality fabrics, so I'm not surprised!
What's your favorite Michael Miller line?!?