When I was a kid, my grandparents used old milk jugs for lots of things, but for berry containers in particular. They would cut the top/side off of a milk jug, tie a rope around the handle, sling it around our necks, and send us outside to pick blackberries for fresh pies and jam.
Now that I'm an adult with a house of my own and no blackberry bushes within miles, we still find uses for these milk jug containers.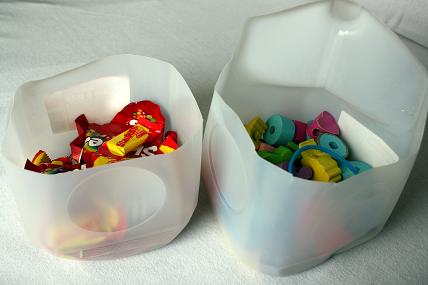 To make the milk jug container with the handle still in tact,
Cut down through the opening on the side opposite of the handle.
Cut in a straight line down as far as you want to go and then cut around the left and then right sides.
As you come around to the handle side, angle up and cut just behind the opening so you cut that part off but leave the handle in tact.
Or cut off the entire top half for a handle-less container.
You can use these milk jug containers…
1. For blocks, cookie cutters, lids and kitchen "toys", bath toys, etc.
2. For bath toys (they're great for pouring).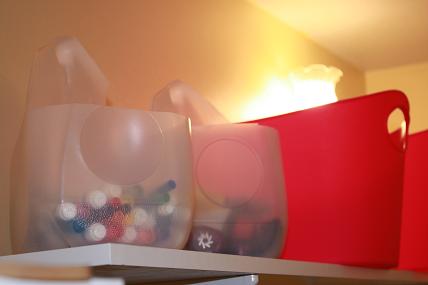 3. In your craft room to hold supplies like markers, stamps, punches, glue sticks, stickers, paper scraps, ribbon, embellishments, etc.
4. For children's art supplies.
5. For laundry detergent.
6. For candy/treats.
7. On a nature walk. Attach a string to the handle and tie it around your children's necks so they can collect interesting rocks, sticks, leaves, or other treasures found along the way.
You can label them, paint them, anything!
The best part about these containers is that they're free (since you're actually buying them for the milk…) and you're reusing something that you would have just thrown away. You can always make more and they're completely replaceable.
Have fun filling your milk jug containers!
{photos taken with a Canon Rebel XSi}