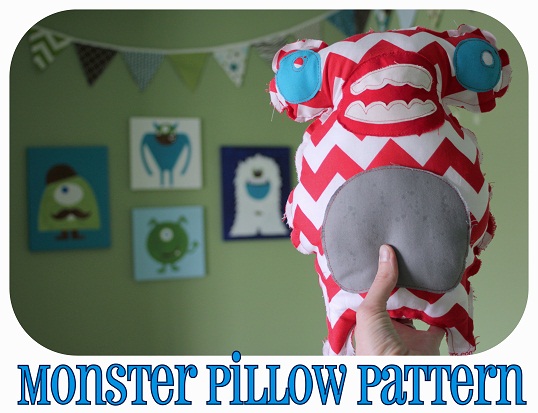 I've been having so much fun with Riley Blake's new Chevron cotton prints, and making a little monster pillow/friend to go in my boys' new monster themed bedroom has been on the to-do list for quite some time. This boyish fabric was perfect for the project.
The great thing about this project is if you have a Cricut, you can make ANY KIND OF pillow/stuffed animal you want. Choose something that has a pretty simple outline, but other than that there are really no limitations!
MATERIALS
estimated completion time: less than 1 hour
a Cricut and cartridge
white cardstock
several scraps of coordinating fabric
spray adhesive or other fabric adhesive
polyester fiberfill batting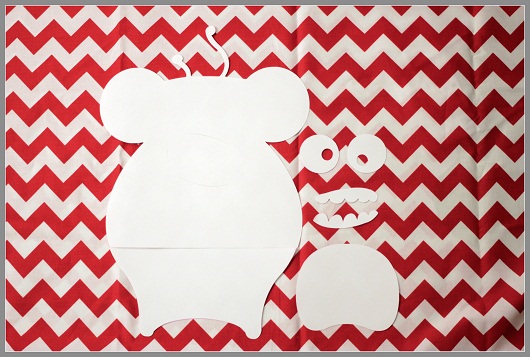 1. Choose a design and cut it out as large as possible. I used the Portrait mode and 2 sheets of 12×12 cardstock on a 12×24 cutting mat. The bigger the better!
My pattern is from Bump in the Night (one of my favorites!) to go along with the boys' new room decor.
2. With a disappearing fabric marker, trace the pattern pieces onto the fabric and cut out using various coordinating prints/solids.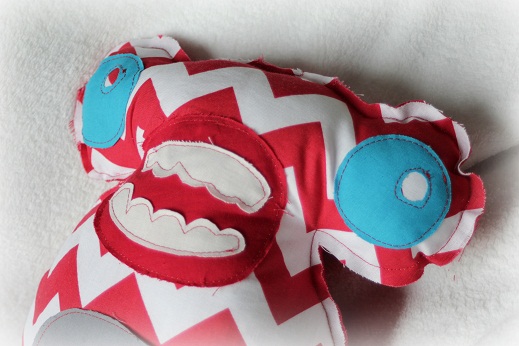 3. Using fabric glue/adhesive, stick the details onto the top of the pillow and sew them down.
4. Pin the pillow front to the pillow back, wrong sides together, using about a 1/4″ seam. Leave about a 2″ opening along one side.
5. Stuff silly with fiberfill.
6. Close the opening either by hand or machine. I shoved the batting over to the otherside, put on my zipper foot, and sewed the opening closed with my machine.
I use my Cricut ALL THE TIME to make sewing patterns, and I think we need a few more of these stuffed monsters…