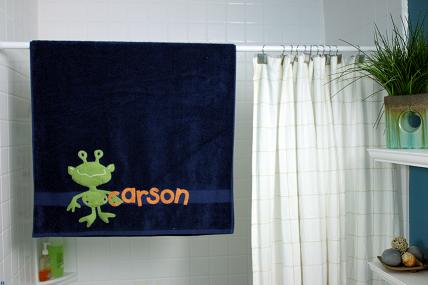 Christmas is definitely not the only time we need great handmade gift ideas, and an appliqued bath towel is so easy and inexpensive to make and would make a great birthday, baby shower, or just because gift.
I made this for my nephew, and it's probably my all time favorite things I've ever made, mostly because that little alien is just so darn cute! That's from the Everyday Paper Dolls Cricut cartridge, and there are several other adorable outer space designs that will be going in embroidery hoops and up on Elliot's wall soon. I hope another paper doll cartridge is coming soon…
Once again, fabric applique is so easy and I do it as often as possible because I love it. The hardest part is sewing around each element in the design.
1. To begin, I use my Cricut to cut my design out on paper so I can make sure I'm getting the size and layout just right.
2. Back your fabric with heat and bond and either trace and cut your design out by hand or slap your fabric to a sticky mat and cut with the Cricut. I did the alien by hand and the letters with the Cricut. Doing it with the Cricut saves so much time, but more fabric is wasted, so I do large designs by hand.
3. Remove the paper backing from the heat and bond and press to your project.
4. Edgestitch around entire design. Go slow and use a blind hem foot.
I did receiving blankets for baby gifts in 2009 and it's going to be appliqued bath towels for 2010!
Click for more cricut craft ideas.