Here it is again, our FAVORITE TOY EVER! Last Fall Manhattan Toy was kind enough to send us the Quadrilla Twist & Rail Set – the best marble run set there is! The pieces are brightly painted wood, very well made, and so much fun for Gus and Elliot.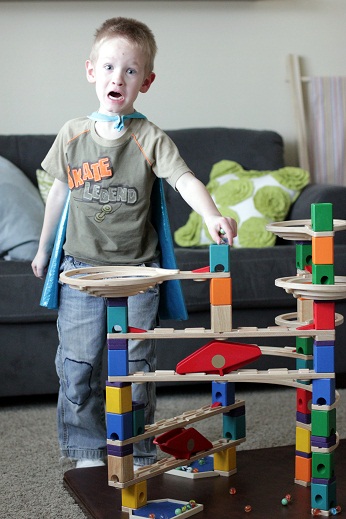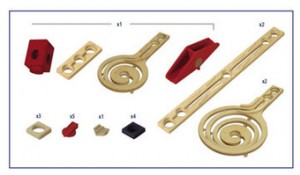 They recently sent us the Expansion Set for the Twist & Rail Set which includes 21 more pieces!
With these extra pieces, we can build much larger and more intricate marble runs, which my boys LOVE. They love the tall towering structures with all the twisting, spiraling, rolling, and dropping, and we build several different runs every day.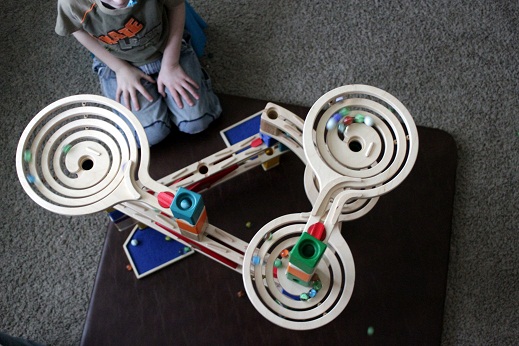 Elliot has even started to be able to build smaller runs all by himself – I was shocked the first time he did it. I came downstairs in the morning and he had woken up early and built one all by himself by following the pictures and doing some serious testing to make sure it all worked. The Quadrilla set is such a great educational toy to teach him problem solving, cause and effect, and fine motor skills.
Here is our first run (from the instruction book) in action:
This is another of the sample runs in the instruction book that also uses all 4 spiral pieces and both seesaws. We love these bigger runs because it takes longer for the marbles to go the length of the course and is so much more fun to watch!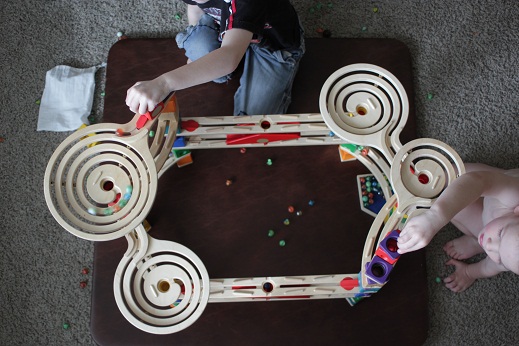 The best part about the bigger runs is that most of them have two starting points, one on each side. One for each boy means no fighting! And the whole thing gets knocked over much less frequently…
Here is the second run in action: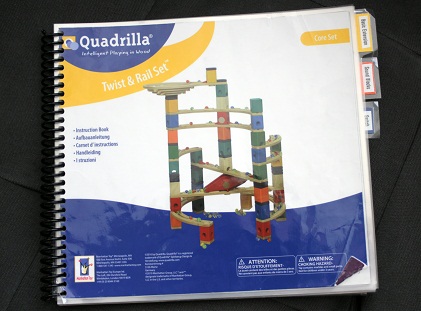 Each set comes with its own instruction booklet – I recently had all the pages laminated and bound into a spiral book to ensure its survival. Keeping track of all three books and making sure they weren't getting trampled and torn with all the use was becoming too big a job. I can't wait to have all the sets and add to the instruction book!
Currently, Quadrilla is made by Manhattan Toy, a company that sells all kinds of well made, colorful, and unique toys including the Parents brand (seen at Target – these toys are a favorite for my kids too!), the very cool Automoblox, and much more.
Thanks to Manhattan Toy for sponsoring today's review!
{This product was provided to Vanilla Joy for review purposes.}