I realize these Christmas gift ideas are coming too late to really be helpful, but I just got them all finished up, so hopefully they can help you next year!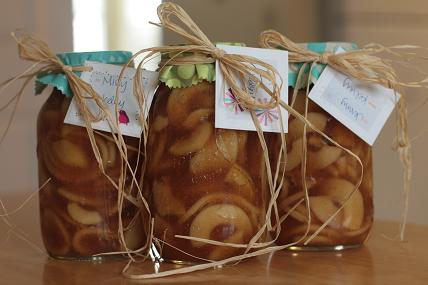 Bottled sweets are a great gift idea – I gave out apple pie filling to three of my favorite friends. You could also do spaghetti sauce, fudge, jam, syrup, whatever you have extra of in your pantry.
Here's my recipe:
APPLE PIE FILLING (makes 7 quarts)
Fresh sliced apples (blanched) – 6 quarts
Granulated sugar – 5½ cups
REGULAR (not instant) Clear?Jel – 1½ cups (if you live in Utah, get Clear-Jel at Alpine Food Storage)
Cinnamon – 1 Tbsp.
Nutmeg (optional) – 1 tsp.
Cold water or fruit juice* –  2½ cups
Apple juice – 5 cups
Yellow food coloring – 7 drops
Bottled lemon juice – ¾ cup
Quality ? Use firm, crisp apples. Golden Delicious, Gravenstein, Granny Smith or Jonathan and other varieties of cooking apples are  suitable. If apples lack tartness, use an additional ¼ cup of lemon juice for each 6 quarts of slices.
Procedure ? Wash, peel, and core apples. Cut slices ½ inch wide and place in water to cover containing 1 teaspoon of ascorbic acid crystals or 6 crushed 500 mg vitamin C tablets. Blanch 6 cups of apples at a time in 1 gallon of boiling water. Boil each batch for 1 minute after water returns to a boil. Drain but keep blanched apples in a covered pot so they will stay warm. Combine sugar, Clear? Jel, and cinnamon in a large kettle with water and/or apple juice. If desired, food coloring and nutmeg may be added. Stir and cook on medium high heat until mixture thickens and begins to bubble. Add lemon juice and boil 1 minute, stirring constantly. Fold in drained apple slicesimmediately. Fill pint or quart jars without delay, leaving 1?½ inch headspace. Adjust lids and process immediately (see Canning).
*Water can be replaced with apple juice for a more apple flavored filling.
_______________________________________________

Next year I'm going to do waay more apple pie filling because it has made such an easy gift!
What are you giving as neighbor gifts this year?
Recipe from the Oregon State University Extension Service