Utah is a pretty dry place and we all suffer from itchy dry skin but Elliot has it the worst. He has developed eczema on the backs of his knees and the poor guy can't help but scratch and be miserable.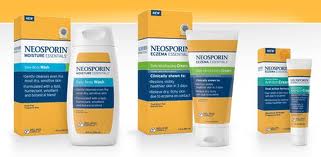 I was thrilled to find out about the line of Neosporin Essentials products, but specifically the Daily Moisturizing Cream that has been "clinically shown to relieve dry, itchy skin due to eczema on contact." It's gentle enough to be used daily by adults and children and is fragrance- and steroid-free.
I put the cream to the test. We applied the cream (and did nothing else) to Elliot's legs for five days.
Day 1: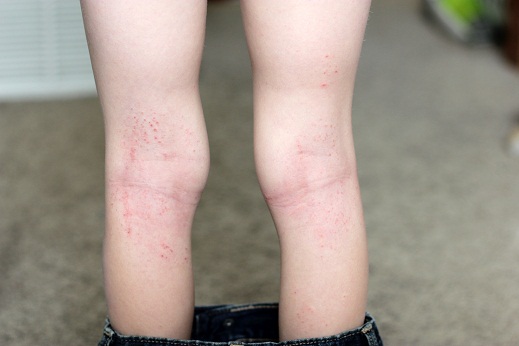 Day 5: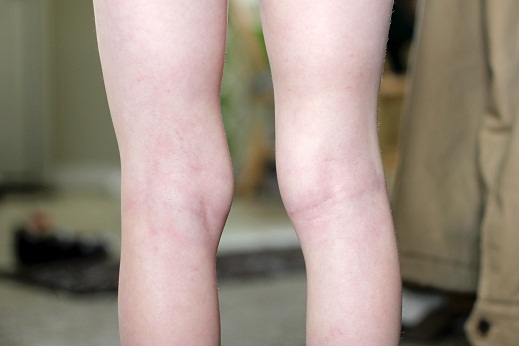 This is for real – no editing, I promise! I did not completely expect the cream to work, but his rash is completely gone! I have tried regular lotion, but his skin needed something more serious. Neosporin Daily Moisturizing Cream took care of it completely!
We've also been using the gentle cleansing Daily Body Wash in an effort to prevent dry skin from happening in the first place. After our success with the cream, I'm convinced the body wash will help our skin healthy, moisturized, and most importantly, itch-free!
The last product in the Essentials pack is Hydrocorisone Anti-Itch Cream for occasional use to treat "itch flare-ups due to eczema." I'm throwing that one in the first aid kit for sure.
If you or a family member suffers from eczema, the Neosporin Essentials website had this information: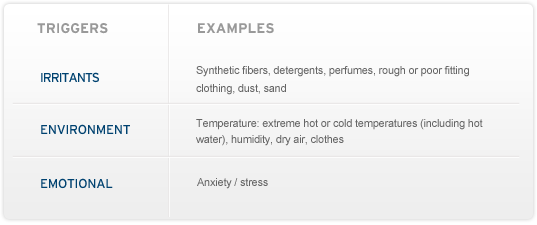 Good to know! I'm fairly certain Elliot's case is related to dry air but possibly detergents, fibers, or dust/sand as well which I never would have considered before. I definitely have some more research to do for him.
Eczema or just regular dry skin, these products are fantastic. Click here to print a coupon and try out the Neosporin Essentials for yourself!
"I wrote this review while participating in a campaign by Mom Central Consulting on behalf of Neosporin Essentials and received a product sample to facilitate my review, and a promotional item to thank me for participating."