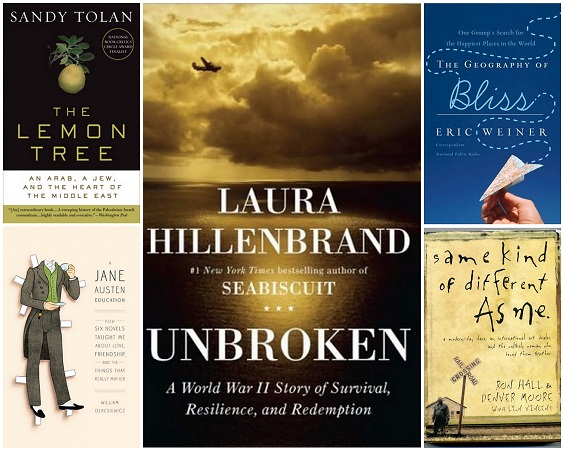 I've read more nonfiction so far this year than all of last year in total, and I have enjoyed every single one so much! I used to be a strictly fiction reader, but I have discovered the pleasure of nonfiction with these books:
The Lemon Tree by Sandy Tolan about the Israel/Palestine conflict with very interesting perspectives from both sides
A Jane Austen Education by William Deresiwicz about the themes and lessons connecting all of Jane Austen's novels
Unbroken by Laura Hillenbrand about Olympic runner Louis Zampernini's experience in WWII – AMAZING STORY
The Geography of Bliss by Eric Weiner about different countries and the relative happiness of different peoples and cultures
Same Kind of Different As Me by Ron Hall and Denver Moore about a modern day slave and an art dealer and their unlikely friendship
My goal was to read 5 nonfiction books this year, and I'm finished already! I'll definitely be reading more this year – what are your favorite nonfiction books???