During this last pregnancy, I spent my nesting months reorganizing, dejunking, and shopping for space efficient and functional furniture. Thank you, IKEA.
We live in a 25 year old town home with smallish rooms (some of which are in desperate need of updating, my craft room/office included…new carpet coming hopefully next month!)
I finally discovered and became OBSESSED with IKEA and my craft room/office is so much the better for it.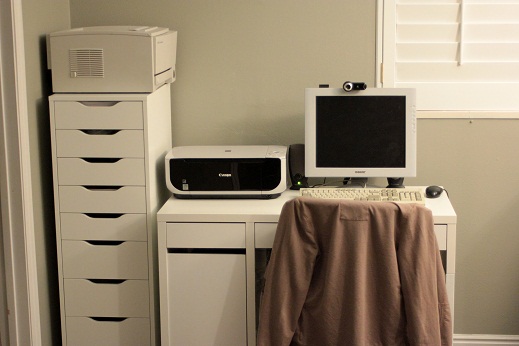 I can't stand house magazines because who can live in a picture perfect spaces like that! Not me. I need livable, practical, and functional with lots of storage. I need furniture that will work for me and help me keep my crazy life and all our junk organized.
Our previous set up had no storage and so the space was a constant atrocity so I went to IKEA looking for storage and storage and storage.
We got the ALEX drawer unit and the MICKE desk and this is pretty much what our computer desk looks like most of the time – CLEAN!  So much better than before. The cost of both of these items was $200 – maybe a little steep but this little area of my life now causes me almost no stress which is worth way more than what we paid.
Next.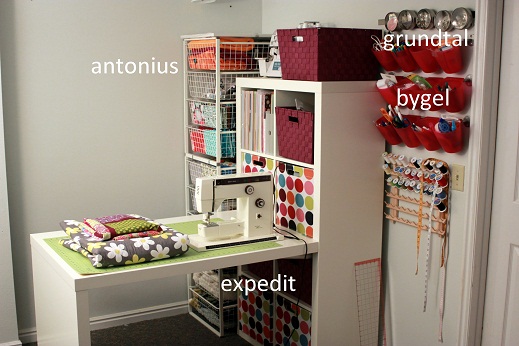 My sewing/craft desk.
You would not believe the tornado that this space was before these few simple IKEA products set up shop at our house. Actually…if you sew or craft I'm sure you can relate…and I even had a very large and very expensive (like $1300 expensive) craft desk before, but this simple set up works better, was cheaper, and takes up way less space!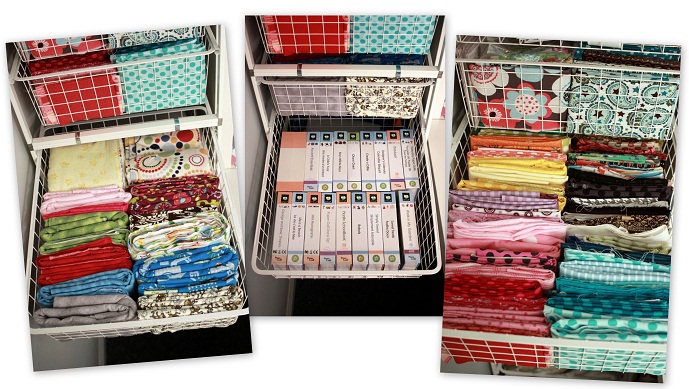 Antonius System
I got the ANTONIUS wire basket system which is so practical and functional for so many different spaces and applications (craft, laundry, linen, toys, etc.) and so inexpensive! I have two separate units stacked, one stacked on top of the other (another beautiful thing about this system!) with a table top for an extra shelf surface. The two frames cost me $25 and the 10 wire baskets were another $25.
$50 gets me enough storage space for ALL OF MY FABRIC, Cricut cartridges, and a few extra drawers for odds and ends. I don't know what else you could possibly buy for $50 that would store as much and as efficiently, I really don't. I love how IKEA utilizes vertical space, it's brilliant.
Expedit System
I also use the beloved EXPEDIT work station ($!20). I'm thinking about buying another Expedit (the 2×2 size) to extend the table surface a bit, but that would cramp things in the room so I haven't done it yet. Still debating…
The 8 separate shelf spaces are just the right size for my larger craft supplies – die cutting machines, scrapbook paper, unfinished projects, needle craft supplies, etc. I got the polka dotted canvas totes from Target ($7.99 each on sale) and the other baskets from JoAnn (on sale, various prices but around $5 each).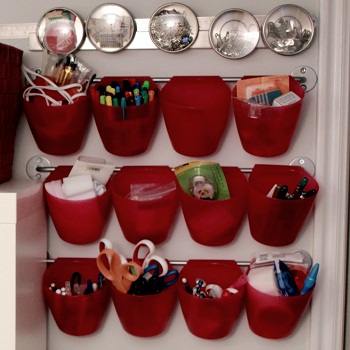 Various
The wall storage items are perfect for all the little things I need to store. The BYGEL buckets and rails are super cheap ($.99 per bucket and $2.99 per rail) and are just the right size to keep all my different tools/supplies separate but very handy and easy to get to and more importantly, to put away.
I also have the GRUNDTAL magnetic knife rack with the magnetic backed containers for various sewing supplies – quilt binding clips, safety pins, hand sewing needles, and machine needles.
IKEA has made its way into almost every room in our house, and I have a list of things I still want…I am totally obsessed with the practical and functional solutions, and the catalog is still by my bedside. I flip through it several times a week just to get ideas. Nerdy, I know…
For just $400 we were able to tame the clutter and give everything its own place. Our office doesn't get nearly as cluttered and out of control as it did before, and honest to goodness my craft desk stays pretty clean too. That's a huge change and it means that I can spend less time cleaning and more time crafting!
I know offices in general are prone to cluttery disaster. IKEA has worked to solve our organizational issues – what's your solution??