We are kind of old-fashioned in our family, or at least we try to be. We don't have an iPad, gaming systems, or cable television so we fill our time with other things we can do together like reading, playing board and card games, exploring nature, and doing jigsaw puzzles.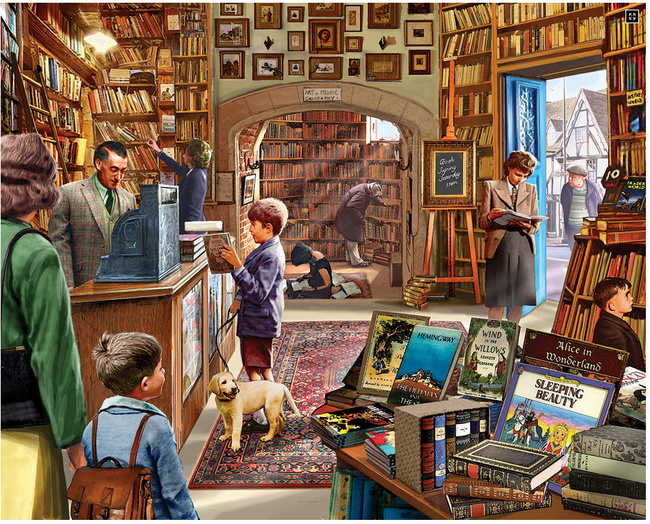 I'm always looking for interesting puzzles and we recently found some new favorites. They're White Mountain puzzles and we LOVE them.
This one above is called Old Book Store – it's 1000 pieces and perfectly challenging with all the books and wood. We love books, so I think all of our favorite part was doing that table of classics in the foreground – the colors are brighter so they were easier to find and a good place to start. Our kids loved finding and assembling the well-known titles, some of which we've read together!
The colors are so bright, this photo is a very accurate representation of the real puzzle. Vibrant and beautiful!
Once we get started it's hard for us to stop. We couldn't tear ourselves away to put the kids to bed until about 11:00pm. And then it took all of our will power! "Just one more piece," we kept saying. Ah!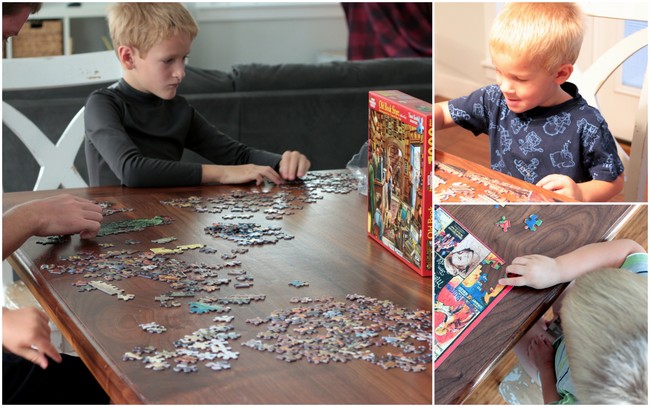 The kids loved doing puzzles with us, even difficult ones like this. We help them find a section of similar colors and they go to work on it. Even our 3 year old helps turn the pieces over and find edge pieces. Puzzles are something we all love doing together and since it takes a couple of hours, we have lots of time to talk and laugh with each other.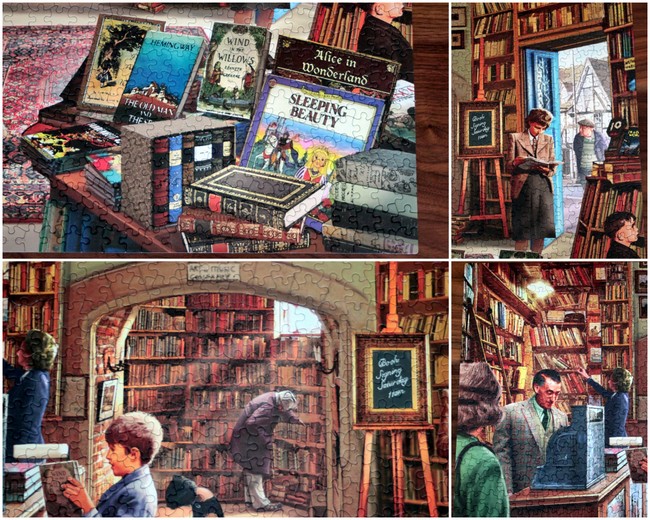 Here are some close ups from the finished puzzle. I love looking closely at a puzzle – like any work of art, the longer and closer you look, the more you see and notice.
My husband is the real puzzler in our family – a few years ago he got a 5,000 piece puzzle for Christmas and he put it together all by himself. I couldn't wrap my head around so many pieces back then. He loves the really hard ones with all the sky and water and mountains – those are definitely not my favorite.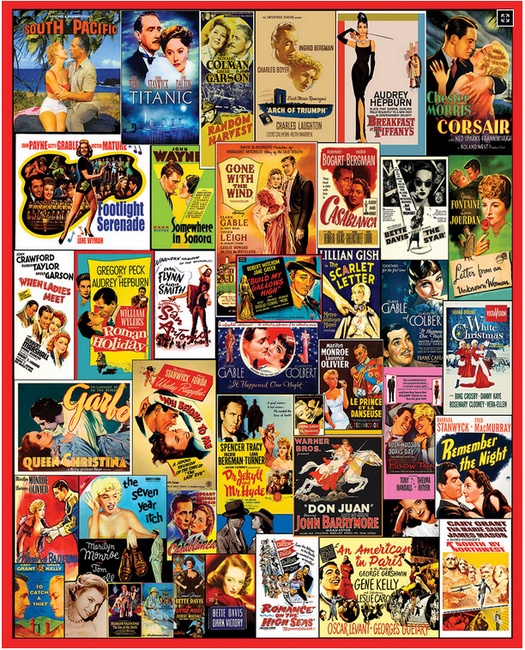 White Mountain puzzles is famous for its collage puzzles like this one, and these are my personal favorite and the reason I love White Mountain so much.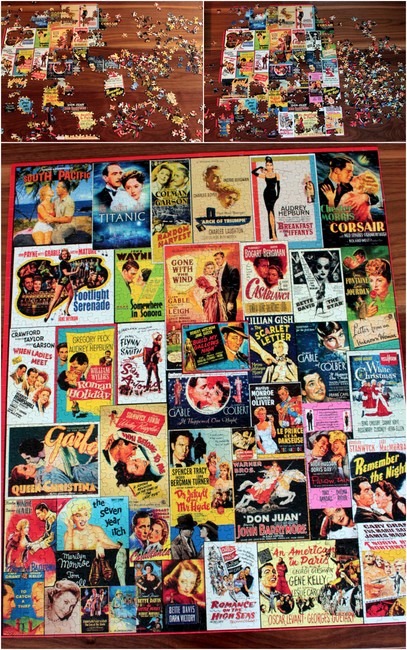 I LOVE the collage puzzles because they go so quickly. We did this 1000 piece Movie Posters puzzle in much less time than the bookstore one – each little poster is almost like its own puzzle so finding the right pieces is much easier and I think more fun!
Plus it's so fun to see all those old movie posters and figure out how many we've seen and which ones we really should watch!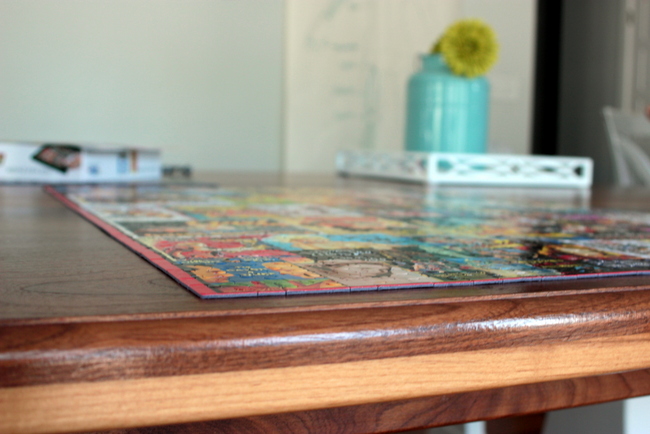 White Mountain puzzle pieces are the best too – they're extra thick and good sized. Perfect for hands and eyes of all ages.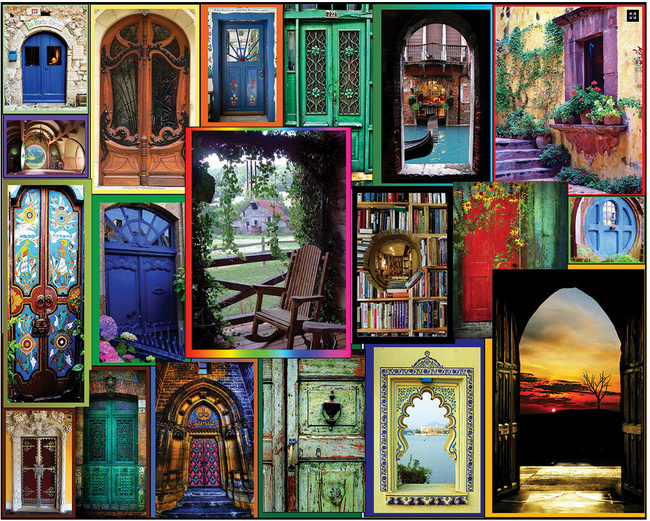 This one is another favorite collage – it's only 500 pieces so we all finished it in about an hour. Because it's a little smaller, our 3, 5 , and 7 year olds all helped the entire time. Their favorite thing to do when we're finished is to take apart individual sections and put them back together again – it works perfectly with the collage puzzles and they do it for days!
I love all these beautiful doors – such a beautiful puzzle and one of my very favorites.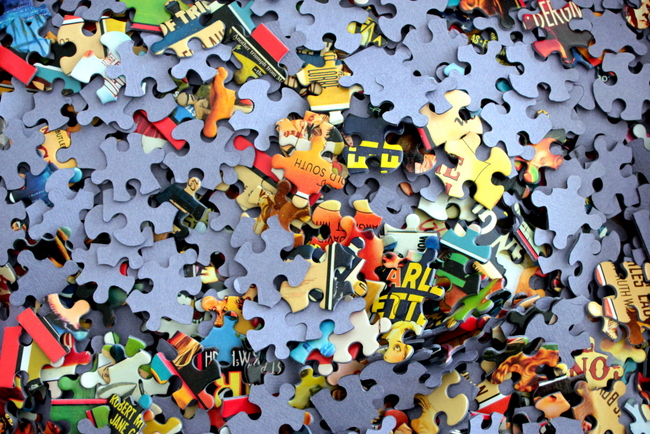 I hate putting the puzzles back in the box! Grabbing that first handful of pieces is excruciating sometimes. But once I get going I'm already looking forward to putting the puzzle together the next time. Endless fun!

There are at least a dozen other White Mountain puzzles on my wish list for Christmas this year – which ones are your favorites???
{I received these puzzles free of charge to facilitate this review.}